21 July 2005 Edition
Life or death in the afternoon
BY Matt Treacy
When the legendary Sporting Life columnist Jeffrey Barnard failed to supply his copy due to being the worse for drink, the paper used to excuse his absence with a single line: "Jeffrey Barnard is unwell." For about ten minutes on Sunday afternoon Matt Treacy was distinctly unwell and was seriously considering the same option.
However, my lack of well-being was not caused by John Barleycorn or even the Devil's Buttermilk. The cause of my woe was the appaling vista that was opening up as Chris Conway popped over another point to leave Laois two clear with seven minutes left.
The Laois woman sitting beside me had woken up and was peering intently into my face, asking me what did I think now. Then she waved her flag but I hardly noticed as it was all becoming one awful blur; the swiftly moving royal blue on the pitch and the royal blue nylon brushing against the cold beads of sweat on my forehead.
I exchanged a quick glance with my Da and caught Ciara's worried expression. Three generations united in a shared memory of this sort of thing stretching back to the 1950s. Were we going to witness yet another unfolding of the inevitable script. Dublin collapsing in the face of an opposition revival. My God! What was I inflicting on my poor child?
Anxiously I scanned the wearers of the sky blue jersey to try and determine their mental state. The first indications were not good. Cluxton was like a distracted hen trying to organise his brood into some shape for the kick-out from the 13 metre line.
There is a story that Kevin Heffernan used to ask the players before a game who was going to be the Judas that would betray them that day. Who would stand up now and take the game by the scruff of the neck. For a moment no one seemed to want the ball but there is no place to hide in the cauldron of Croke Park. And only two options: life or death in the afternoon.
Dublin had started like men possessed. This has become the pattern for the Summer. Come out of the blocks fast, hit hard and try to build a substantial early lead. The flaw with this strategy is that failure to translate that dominance into an eight or nine point lead leaves them vulnerable to the inevitable comeback. That was best epitomised in last year's quarter-final when Dublin tore into Kerry for the first 35 minutes but only went in at half time with a one point lead.
Another danger is that the sheer physical effort entailed in chasing every ball and using your body to stop some large chap travelling at high speed takes its toll. In the 1970s Dublin and Kerry often beat teams by running the legs off them. That doesn't happen anymore. All teams are fit and there is little difference between the leading contenders.
That means that every team is going to have enough reserves to have their period of dominance. It is how you use it that makes the difference between viine. I glanced at the Da again. Dublin's fortunes in the hands of a St Vincents man. Keaveney, Mullins, O'Driscoll and right back to the late great Lar. There's something in the breeding! And probably more in the influence of Finglas's own Charlie. The ball floats over the black spot.
Laois had two more chances but Munnelly missed a free and then Tom Kelly posted another wide. By now we have lost our reason. On our feet screaming like demons from Pandoras box on day release. Then it's over. Ciara's hero Darren — who won her heart one muddy January in Parnell Park as he stood for half an hour patiently signing shirts and programmes — grabs the ball. The whistle sounds. The Laois woman tells me to shut up and sit down.
There was a time when Dublin winning Leinster was almost routine, a necessary obstacle to be surmounted on the way to having a tilt at the real prize. This one we celebrated as though it was the All-Ireland. I only hope that it was a rehearsal!
An Phoblacht Magazine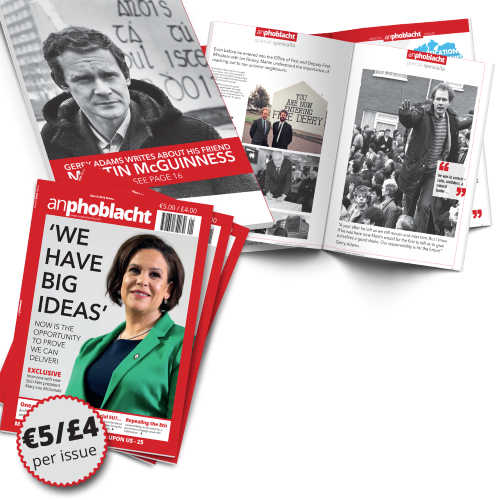 AN PHOBLACHT MAGAZINE:
The first edition of this new magazine will feature a 10 page special on the life and legacy of our leader Martin McGuinness to mark the first anniversary of his untimely passing.
It will include a personal reminiscence by Gerry Adams and contributions from the McGuinness family.
There will also be an exclusive interview with our new Uachtarán Mary Lou McDonald.
test