21 July 2005 Edition
Fifth Column
12th on the slide
THE BELFAST TELEGRAPH'S Lindy McDowell rallied to the defence of what she called "Orange culture" in her column the day after The 12th. A few pages earlier, Lindy's news colleagues at the main Belfast 12th event, Paul Higgins and Claire Regan, gave us a taste of the "Orange culture" that is allegedly under attack.
"Ice cream and burger vans did a roaring trade alongside stalls selling everything from lollipops adorned with the Red Hand of Ulster to cowboy hats." And you could also throw yourself down the "massive inflatable slide" or into "a crocodile pit".
The things some people will do to escape listening to Orange Grand Master Robert Saulters.
Feuds Reunited
SO WHAT DID Grand Master Flash have to tell his bowler-hatted brethren?
The UVF and LVF, the Orange head said, should "call off their feud and enjoy the company of one another".
The UVF gunmen who used a 12th Night bonfire to threaten to add to its tally of two feud deaths and "wipe out the LVF" obviously didn't hear Brother Saulters's plea because they were wearing unionist balaclavas that were extra-thick.
Big Brother's wait
AND the Orange Order had tough words for their old pals in the Peelers. Saulters even called them the PSNI "Gestapo".
So what had PSNI Führer Hugh Orde done to big Brother Saulters's poor, persecuted, meek and mild Homepride lookalikes?
"Mr Orde," Saulters fumed, "is still to explain and apologise to myself and others for the heavy-handed treatment we have taken from the PSNI in being cautioned. Papers are still with the Director of Public Prosecutions and we are still awaiting our fate."
Right on, Brother Bobby. Those police cautions can hurt your ears if you're not used to being spoken to like a Fenian. As for Peelers' batons, boots, plastic bullets, live rounds, Castlereagh torture centre, internment and shoot-to-kill ambushes — those nationalist residents don't know what terror is until they've had a police caution waved at them!
And Bobby still has the agony of awaiting his fate. That Mandela fella had it easy.
Big Daddy on parades
IAN PAISLEY, meanwhile, was the big turn at his breakaway Independent Orange Order's 12th at Portglenone, County Antrim.
Big Daddy had no time for telling the unionist paramilitaries to kiss and make up and "enjoy the company of one another". Oh, no.
"These so-called loyalists who practice murderous deeds and engage in all sorts of Mafia crimes must be utterly condemned. They disgrace the cause they claim to defend and make it infinitely harder for those who seek the vanquishing of IRA/Sinn Féin."
Which is something the DUP leader can tell them to their faces himself when his party next sits round the table of the North and West Belfast Parades Forum with the Orange Order, Sir Reg Empey's Ulster Unionist Party and the "so-called loyalists" of the UVF and UDA/UFF.
The force isn't with us
BIG DADDY urged anyone listening at the field to take a "post view of the situation" and look ahead to a rosier Orange future under the DUP. But the old war horse couldn't help having a swipe at "false unionists" and yearn for unionism's 'good old days'.
"Our B-Specials, they disbanded. Our Ulster Defence Regiment, they destroyed. The RUC, they surrendered. And our parliament, they dissolved."
So that's the Mugabe-style, paramilitary police units of the B Specials who led the pogroms of Catholic areas in the 1970s; the sectarian militia of the UDR, armed and controlled by the British Army; the RUC, the full-time successors to the B Specials which themselves had to be revamped because of their appaling record; and what unionists fondly recall as "our" parliament which was, unashamedly, "a Protestant parliament for a Protestant people".
Big Ian's still beating that Orange drum.
Croppies lie down
DUNLOY Orange Order leader David Tweed shares the DUP leader's view that nationalists should know their place.
A Civil Rights-style peaceful sit-down protest was staged against an Orange Order parade through the largely nationalist Antrim village.
Tweed couldn't abide this and foamed: "This is naked sectarianism at its worst!"
Ard to understand
ORANGE ORDER WEBSITES are fairly unimaginative and uninteresting if you haven't got a thing for endless photos of men in suits and bowlers carrying umbrellas on a blistering sunny day. But Newtownards Orange Lodge Number 4 has a slightly interesting set of links on its website.
Alongside the link to The History of Orangeism in Ireland, Dan Winter's Cottage is one for OrangeNet, Calton Radio (the Scottish loyalist web-based radio station that a Scottish Nationalist MSP last week called for to be closed down), OrangePages, Protestant Forum and, curiously, Ards Borough Council.
Ards may not be able to stop Orangemen listing links but, in the interests of community relations and nationalist families within Ards Borough, they could ask for the link to be removed.
We'll wait and see if anything happens.
Flight of fancy
'SIDESHOW' BOB McCARTNEY QC, leader of the incredibly shrinking UK Unionist Party, took up nearly two pages of the Belfast Telegraph also the day after The 12th to claim in all his boring, pompous and mind-bendingly dull seriousness that the IRA car bomb "was the forerunner of the Al-Qaeda plane bomb".
The trouble with Bob the Barrister's flimsy case is that cars don't fly (TV's Joe 90 puppet series might have managed it but not even IRA engineers achieved that feat). And hasn't our supposedly learned friend considered evidence that Al-Qaeda might just have got the idea of the plane bomb from World War Two Japanese kamikaze suicide pilots' attacks on US targets at Pearl Harbour?
Clegg court martial dropped
PARATROOPER LEE CLEGG, who was convicted of murdering Belfast teenager Karen Reilly in 1990, has walked free from a British Army court martial after being charged with punching a boy soldier.
Clegg was jailed for life in 1993 and freed on licence two years later. He was cleared following a re-trial in 1999 and welcomed back into the Parachute Regiment with much fanfare amid a campaign by British Army generals and the right-wing media.
Now a sergeant in charge of a Military Police section, Clegg faced a charge of assaulting a teenage junior soldier at the Infantry Training Camp, Harrogate, Yorkshire, last February.
But Clegg's court martial was dramatically halted permanently last Monday week by the British Army's top judge without explanation.
Pick of the week
THE ICE-PICK that was allegedly used by one of Stalin's agents to kill Leon Trotsky in exile in Mexico City has resurfaced just weeks before the 65th anniversary of his assassination.
Tests to authenticate the weapon have been delayed by a dispute between the current owner, who wants to sell it, and Trotsky's grandson, who wants it for his museum — evidence of the ongoing struggle between capitalism and socialist ideals.
The ice-pick is in the hands of Ana Alicia Salas, whose father apparently removed it from an evidence room while serving as a secret police commander in the 1940s. She is considering selling the 30-centimetre mountaineer's ice-pick, but hasn't decided on a price.
Trotsky's grandson, who has made his home in Mexico City into a museum, wants the ice-pick for his display.
Trotsky helped in the 1917 Russian Revolution but split with Josef Stalin and fled to Mexico in 1937, accusing Stalin of betraying the revolution. Stalin is widely believed to have arranged Trotsky's assassination on 20 August 1940, when a man sneaked up behind Trotsky and sank the ice-pick into his skull.
The murder weapon has become infamous, inspiring an indie rock band, Trotsky Ice-pick, whose songs included A Little Push At The Top Of The Stairs. And Trotsky also featured in The Stranglers' punk rock classic, No More Heroes: "Whatever happened to Leon Trotsky? He got an ice pick... That made his ears burn..."
The weapon in Salas's possession has faint, reddish-brown stains. But there's only one sure way to prove the stains are Trotsky's blood, and Esteban Volkov, Trotsky's grandson, holds the key: hi, ran the online poll over a period of five weeks and attracted more than a million hits to its website.
With 28% of the 30,000 votes cast, Marx came out as the clear winner. He had more than twice as many votes as his nearest rival, Scottish philosopher David Hume, who picked up 12.7% of the vote. Coming in third was another German, Wittgenstein, with 6.8% of the vote. BBC newscaster John Humphrys nominated French footballer-turned-actor Eric Cantona.
An Phoblacht Magazine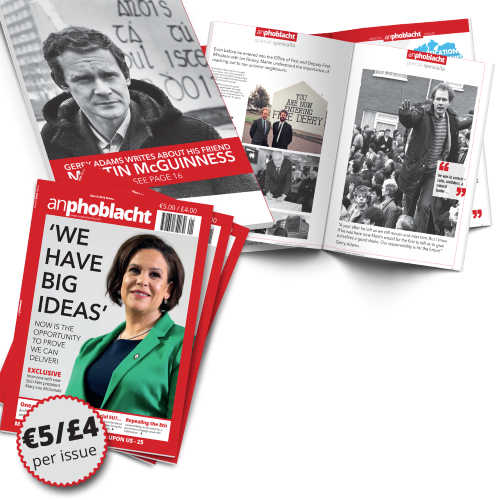 AN PHOBLACHT MAGAZINE:
The first edition of this new magazine will feature a 10 page special on the life and legacy of our leader Martin McGuinness to mark the first anniversary of his untimely passing.
It will include a personal reminiscence by Gerry Adams and contributions from the McGuinness family.
There will also be an exclusive interview with our new Uachtarán Mary Lou McDonald.
test