21 July 2005 Edition
Hands off Aer Lingus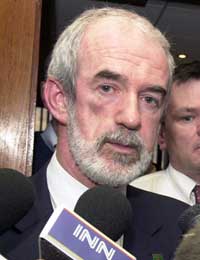 Mick Halpenny is National Industrial Secretary of SIPTU Ireland's largest trade union representing 250,000 workers. Writing for An Phoblacht this week he argues the case against privatisation of Ireland's national airline.
THE decision by the government to sell off a majority shareholding in Aer Lingus represents a triumph for the free marketeers in the Cabinet and a victory for ideology over common sense. It is bad for the country, bad for the taxpayer, bad for the workforce and is bad business for Aer Lingus.
If a majority shareholding in Aer Lingus is sold the country will lose its national flag carrier and it will lose control over a strategic company that is vital to an open, island economy. In time, Aer Lingus will disappear. The shamrock will be painted over and a national carrier that flies travellers direct from Ireland to major centres throughout Europe and North America will become a feeder airline to a hub such as Heathrow. Taxpayers will lose the dividends enjoyed from ownership of the company and the exchequer will not even make a once-off financial killing on the stock market because shares will have to be offered at a large discount to attract potential investors. At least €100 million could be written off the airline's value.
It doesn't have to be this way and no convincing case has been made out by the Government as to why it should.
One of the most profitable airlines in the world
Aer Lingus is not a loss maker and "is not a basket case". In fact it's one of the most profitable airlines in the world with an operating profit in 2004 of €107 million and a market value estimated to be up to €950 million. This is in stark contrast to the fortunes of leading US Airlines where the six big traditional carriers have racked up losses of $21 billion since 2001 despite massive hand-outs from the US Government. In Europe Sabina and Swiss Air have gone bust, Alitalia made huge losses in 2003 and KLM has been taken over by Air France.
Aer Lingus's success amidst all this failure did not come about by accident. Aer Lingus was rescued by the workforce from losses in 2001 and it was their sacrifices in job cuts, new work practices and pay restraint that delivered the National Carrier to its present situation. Providing stability throughout these difficult years has been the platform of public ownership and control and the decision now of Government to divest of a majority shareholding is viewed by staff as a betrayal of those sacrifices and their success in rescuing the airline and restoring it to profitability.
ICTU Proposal
Everybody is agreed that Aer Lingus needs access to capital for development and fleet replacement in the expanding airline industry. However, this of itself is not an argument for privatisation. There is no reason, for example, why the state should not be able to invest in Aer Lingus as a going concern — this is entirely permissible within EU competition rules. Alternatively, the Irish Congress of Trade Unions has proposed a mechanism under its State Holding Company proposal which would allow all of the Semi-State Companies including Aer Lingus to remain in public ownership and control and at the same time allow them access to necessary capital going forward.
Two Disaster Warnings
At home, our experience of privatisation has been nothing short of disastrous and possibly scandalous. We only have to look at the havoc wreaked by the privatisation of Eircom on hundreds of thousands of ordinary investors and ultimately on the value of the company itself. If there's one thing that most commentators agree on it is that the privatisation of Eircom was an unmitigated disaster for all but a few venture capitalists.
With regard to privatisation of a state airline — we've been there before as well. New Zealand, a small island economy with a population roughly the same as ours, heavily dependent on air links to the outside world, privatised its National Carrier in 1988 and sold it to a private consortium for NZ$660million.
Barely 12 years later New Zealand Air was bankrupt, shares were suspended, thousands of staff lost their jobs and the state had to buy back the company for NZ$885million and write off 1.3billion in debts.
Whether at home or abroad there are no convincing examples to justify in any way the privatisation of Aer Lingus with all its consequent effects on the company, the staff, the travelling public and ultimately the country.
The importance of the national carrier to an island economy such as ours does not need to spelt out. Neither do we need to repeat the mistakes of New Zealand.
On the other hand the workforce have proved that the national carrier can be successful and profitable in one of one of the most cut-throat businesses in the world. That business, the airline industry, is expanding and there is no reason why Aer Lingus with the commitment of the workforce and Government alike should not have a good and secure future and to do so maintaining decent standards terms and conditions of employment and reasonable returns to profit.
Privatisation — failed ideology
What is required now by government is to turn away from the decision to privatise and to examine the proposal of the Irish Congress of Trade Unions to retain Aer Lingus in public ownership and control and to allow access to necessary capital under the proposed State Holding Company concept. There is no point in the Government, pursuing what is to all intents and purposes an ideological agenda which serves only the interests of private capital. Too much sacrifice and effort has been made to get the company this far, when many other airlines have fallen by the wayside, to allow the fruits of that sacrifice to be put on auction to the highest private bidders. Aer Lingus workers are not going to be pushed into a "race to the bottom" as private owners "sweat" the company to extract the maximum profit for their own dividends.
It cannot be left solely to the workers and the unions to make the case. This is a matter of public concern. It is encouraging to see cross party support for motions against privatisation, sponsored by Sinn Féin and the Labour Party in major public bodies such as Dublin City Council and South Dublin County Council.
Much more needs to be done to ensure that the voice of the community and the national interest is heard above the shrillness of a failed right-wing economic ideology.
I can do no better than to repeat the words of the Deputy Prime Minister of New Zealand Jim Anderton. Speaking in October 2001 on the Air New Zealand near collapse he said: "As in rail, banking, telecommunications and energy, this Government is having to cope with the problems of a failed economic ideology. New Zealand's economic development and tourism future hinges on maintaining a strong air transport carrier. The primary consideration of the Government in making the decision to invest is the national interest in maintaining an effective flag carrier".
An Phoblacht Magazine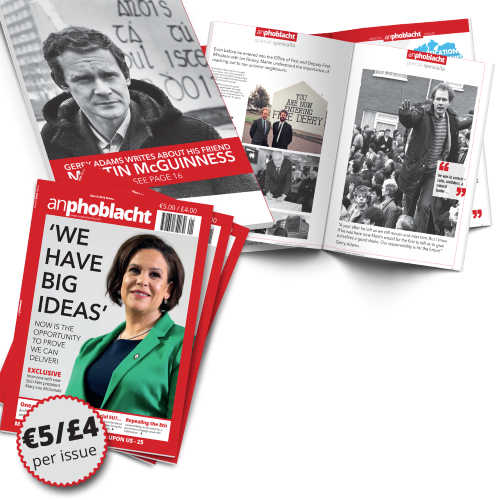 AN PHOBLACHT MAGAZINE:
The first edition of this new magazine will feature a 10 page special on the life and legacy of our leader Martin McGuinness to mark the first anniversary of his untimely passing.
It will include a personal reminiscence by Gerry Adams and contributions from the McGuinness family.
There will also be an exclusive interview with our new Uachtarán Mary Lou McDonald.
test