21 July 2005 Edition
Heath will be remembered for Bloody Sunday role - McLaughlin
Sinn Féin General Secretary, Mitchel McLaughlin has said that Ted Heath will always be remembered as the British Prime Minister who oversaw the events that led to the massacre of innocent civilians on the streets of Derry.
McLaughlin said: "It is ironic that Ted Heath should die on the same weekend as the last of the Mothers of the Bloody Sunday victims. Nancy McKinney, the mother of Willie McKinney, passed away yesterday and I extend my condolences and those of my party to the McKinney family.
"Whilst Mrs McKinney will be remembered by all with pride for the dignity with which she and all the other mothers and families displayed over the years since Bloody Sunday, Ted Heath will be remembered by the people of Ireland for the contempt with which he treated the families of the Bloody Sunday massacre and the people of Derry.
"It was Ted Heath who set the parameters for the Widgery Tribunal when he instructed the British Chief Justice when he appointed him to carry out an Inquiry to remember that they were fighting a 'propaganda war' as well as a military one. There never was any intention on the part of the Heath government to disclose the truth of what happened on Bloody Sunday.
"Right up until the end Heath showed nothing but contempt for the search for the truth. Even his appearances at the Saville Inquiry were contemptuous. Unfortunately, Heath's contempt denied all of the mothers of the victims the dignity of knowing the truth had finally been told before their deaths."
An Phoblacht Magazine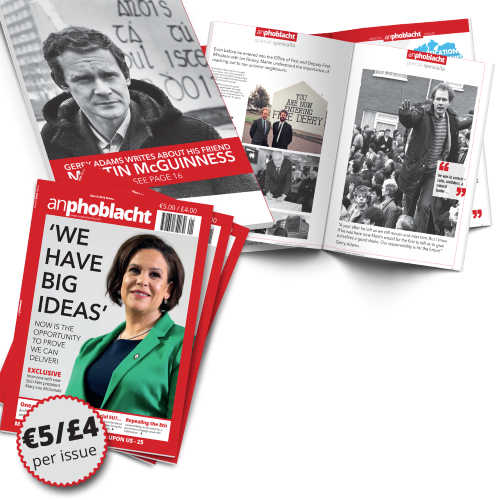 AN PHOBLACHT MAGAZINE:
The first edition of this new magazine will feature a 10 page special on the life and legacy of our leader Martin McGuinness to mark the first anniversary of his untimely passing.
It will include a personal reminiscence by Gerry Adams and contributions from the McGuinness family.
There will also be an exclusive interview with our new Uachtarán Mary Lou McDonald.
test