21 July 2005 Edition
Edward Heath - the best friend we never had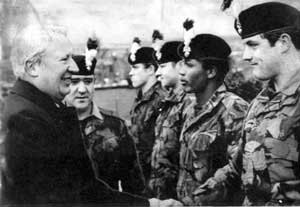 BY
ROBBIE SMYTH
"Sir Edward will be remembered with particular affection in Ireland." This was just one of the plaudits heaped on former British Conservative Prime Minister Edward Heath who died this week aged 89. This particularly gushing eulogy delivered by Fianna Fáil leader Bertie Ahern is in stark contrast to any analysis Irish republicans would have of Heath's years as Tory leader and in government between 1970 and 1974.
Maybe we remember the little things like Internment, Operation Motorman, Bloody Sunday, direct rule, British dirty tricks and the exclusion of republicans from political negotiations.
Sometimes it takes something as simple as the death of a failed politician to highlight the gulf in society today between establishment thinking and the ordinary households who have to live with the consequences of the decisions of former political leaders.
For both the British and Irish people Edward Heath was a Prime Minister who blustered lots but delivered little. He was in his personal and political life a mass of contradictions that make him today an oddity among political leaders of the last 30 years.
In a personal capacity Heath's achievements are impressive, winning a scholarship to Balliol Oxford, travelling to Europe in the 1930s, seeing first hand the downside of fascism in Germany and Spain, fighting in World War II and finishing the war as a lieutenant colonel and then being elected to parliament in 1950.
He became an accomplished musician and sailor, captaining the winning Admiral's Cup Team for Britain in 1971 when also serving as a Prime Minister. It is rare to see any contemporary political leader with such a public work/life balance, though George Bush's endless holidays are an exception.
Heath was the first Conservative leader chosen by secret ballot and the first to come from more humble origins than some of his aristocratic predecessors. Heath's election was for practical reasons and in this he was very much a product of a liberalising British political society.
The Conservatives saw in Heath an ability to take on Labour's Harold Wilson whose modernising platform was welcomed by an increasingly younger electorate. Wilson had narrowly won the 1964 election, returned with a landslide majority in 1966 giving Heath his first of three-out-of-four Westminster elections losses.
In 1970, Heath won his only election after a late swing by disillusioned voters pushed Labour out of office. A radicalised electorate was disillusioned, not just with the Wilson's government progress on social equality but with their inability to deal with the growing economic malaise undermining the British economy.
Twenty-plus years of post-war economic growth was winding down, neither Wilson or, as it turned out, Heath had any understanding of how to revitalise the British economy. Wilson's half-hearted welfarism and industrial interventionism was spending millions with little return.
Heath was elected on what was now a monetarist platform promising no more handouts for lame duck industries and a tougher line with trade unions. Within a year his government had bailed out Rolls Royce and a shipbuilding company on the Clyde.
His encounters with trade unions were massively miscalculated resulting in a huge decline in industrial output, power cuts and a three-day week. Heath called an election in early 1974 on the platform of "who governs?" The resulting hung parliament showed that he clearly didn't. A second election in October 1974 was only marginally more conclusive and Labour took power with a four-seat majority. Within a year Heath was ousted by the Tory elite who once thought he was to be their saviour.
It is here that perhaps the only common ground exists between Heath and Irish republicans, his and our unending dislike of his usurper Margaret Thatcher.
So what about Heath and Ireland? In his autobiography he writes of visiting Ireland with his friend and future Stormont Prime Minister Robin Chichester Clarke in 1960. Heath wanted to travel to Dublin but a fearful Clarke would only deign to smuggle him across the border to Donegal, covered by a blanket in Clarke's car.
Heath writes of his concern about nationalist rights but his record in office was one of acquiescing to unionist demands for more troops, for internment without trial and then in the aftermath of Bloody Sunday endorsing the beginning of a 30-year cover up of the events on that day.
It is on Ireland and his years as Tory leader that we can see the contradictions and failure of Heath clearly. He sacked his close friend Enoch Powell after his 1968 'Rivers of Blood' speech. The two never spoke again, yet he never really took on his other friends like Chichester Clarke to whom he allowed more troops come to Ireland knowing full well that they would be used to subdue and persecute northern nationalists.
Interestingly the chapter on Ireland in his autobiography gives only a few lines to the talks between republicans and his government. He doesn't seem to realise that like many other British leaders and before and after him he was to make the mistake of trying to cut a deal on Ireland that would exclude republicans.
But Heath's tenure in government was a busy one. We are told his experience of 1930s and wartime Europe filled him with a hatred of dictatorships and fuelled his desire to have Britain in the European Union. He had no problem though with unionist hegemony; with their desire for a militarised police state and then he began a policy of British dictatorship in Ireland, garnished in the polite description of "direct rule".
Heath also allowed the restarting of arms sales to the South African Apartheid regime. Was this not another dictatorship?
After 1975 when Thatcher was elected leader, Heath returned to the backbenches, where he stayed until 2001, capping off 51 years of continuous representation. In 1997 as 'father of the house' in Westminster he was instrumental in the election of the first woman speaker, Betty Boothroyd.
He remained an outspoken critic of Thatcher and his "rejoice, rejoice" quips after her ousting in 1990 has been given repeated airings in recent days. In 1992 he described her as "rabid and bigoted" with a "minute mind".
He was one of the most regular attending MPs during his time at Westminster, refusing to retire to the Lords, yet did little as Tory leader to cherish democracy not just in Ireland but Britain too.
Heath once described himself as the best friend Ulster ever had. He wasn't a friend of Ulster or Ireland. He was and remained delusional about, not just his role in Ireland but, as a British leader. He might have been a nice man, but he was a bad politician guilty of the very failings to which he claimed to be opposed.
An Phoblacht Magazine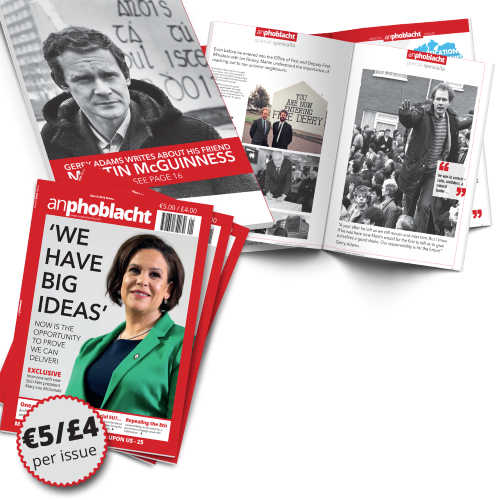 AN PHOBLACHT MAGAZINE:
The first edition of this new magazine will feature a 10 page special on the life and legacy of our leader Martin McGuinness to mark the first anniversary of his untimely passing.
It will include a personal reminiscence by Gerry Adams and contributions from the McGuinness family.
There will also be an exclusive interview with our new Uachtarán Mary Lou McDonald.
test