14 July 2005 Edition
Marines whitewash disrupted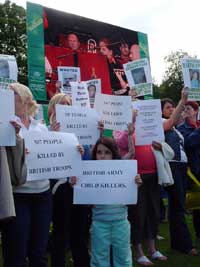 It was billed as a day of musical fun and entertainment as Belfast City Council was to beam, on a big screen, a live performance of La Boheme from the 'Royal' Opera House in London, to an open air audience in Botanic Gardens on Thursday 30 June. But organisers hit the wrong note when they invited the band of the British army's infamous Royal Marine Commandos.
An Fhirinne and Relatives for Justice - both groups representing families of people killed by the British Army, RUC and unofficial unionist murder gangs over the past 30 years, organised mounteda protest demonstration. Standing in front of the bandstand picketers displayed banners carrying the faces of many nationalists killed by the British forcesin Ireland over the years.
Belfast City Council claimed that an invite to the Three Irish Tenors would counterbalance the Marines presence, but as Sinn Féin councillor Paul Maskey pointed out, "as far as I am aware the tenors don't come from a military background".
Among those who partcipated in the protest in Belfast was Pearse McShane whose 16-year-old brother Martin was cut down by the Royal Marines in Coalisland, County Tyrone just before Christmas in 1971
A Marine captain fired 30 shots at the boy as he played with friends near his home. A judge ruled that the soldier who killed Martin was justified in his actions. Speaking at Thursday's picket Pearse McShane said: "Martn was 16 years old, playing with a group of younger friends, and was guned down. No soldier was ever held accountable and the British government justified the killing. "We do not want this event to go ahead without people remembering what the Royal Marines were responsible for, or indeed all the other regiments of the British army. They killed and injured with impunity. This cannot go unchallenged".
Fergal Caraher was shot in Cullyhanna, South Armagh by Marines on December 30, 1990. Peter John Caraher, Fergal's father told An Phoblacht: "My son's killing was exposed to the international human rights community as a gross violatoin of human rights. The people responsible were never held accountable and my son's killing was justified through lies and cover up by the British establishment.
"Thursday night is billed by Belfast City Council as a wonderful evening of operatic excellence, but it leaves me cold that the regiment that includes the killers of my son should be applauded in such a setting."