14 July 2005 Edition
Dúirt siad...
Dúirt siad...
It was not aimed at presidents or prime ministers, it was aimed at working-class Londoners. Ken Livingstone, mayor of London, on the bombings of London's transportation system. Daily Ireland 11 July
It was expected and it was inevitable... Blair had been saying that the war is nearly behind us and now it has landed in the middle of London. Tony Benn on the same attack. Daily Ireland 11 July
This is a huge emergency. A terrible sad day. Taoiseach Bertie Ahern on the London attack. Daily Ireland 11 July
Nothing but an Army convention can bring resolution to this impasse. Pat Rabbitt calling for an IRA convention to be held, showing a remarkable degree of knowledge of underground military procedure, presumably from his days in WP/OIRA. Press Release from Labour Party Website 12 July.
An Phoblacht Magazine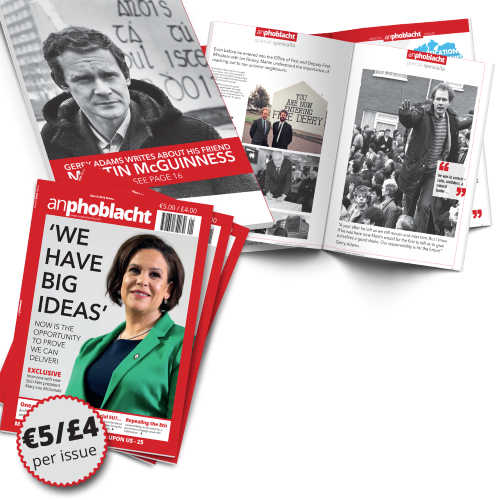 AN PHOBLACHT MAGAZINE:
The first edition of this new magazine will feature a 10 page special on the life and legacy of our leader Martin McGuinness to mark the first anniversary of his untimely passing.
It will include a personal reminiscence by Gerry Adams and contributions from the McGuinness family.
There will also be an exclusive interview with our new Uachtarán Mary Lou McDonald.
test