14 July 2005 Edition
Carnival of Reaction in Ardoyne
Carnival of Reaction in Ardoyne
Once again, nationalists in various parts of the Six Counties are subject to the annual ritual of sectarian intimidation and attack as the Orange bandwagon forces its way through their neighbourhoods.
And again the PSNI has shown that is only too willing to exacerbate tension by attacking natioanlist protestors.
This year the most contentious flashpoints have been Ardoyne and Dunloy. Both are nationalist neighbourhoods where demonstations by avowedly anti-Catholic organisations aren't welcome.
The real issue here, however, is the refusal of Orangemen to engage in dialogue with nationalist residents through whose areas they want to march. Dialogue between nationalists and the Orange Order can and has resulted in accommodation and minimal disorder in Derry and elsewhere. This precedent was not built upon by the Orange Order in Ardoyne. But worse again their refusal to engage in dialogue was rewarded by the decision of the Pareades Commission to allow the march to go ahead. This position is untenable and unworkable.
An Phoblacht Magazine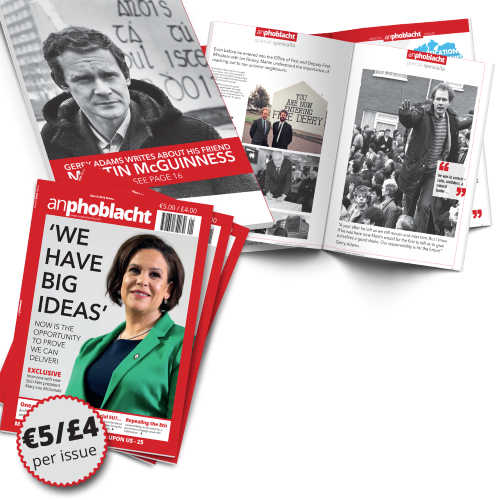 AN PHOBLACHT MAGAZINE:
The first edition of this new magazine will feature a 10 page special on the life and legacy of our leader Martin McGuinness to mark the first anniversary of his untimely passing.
It will include a personal reminiscence by Gerry Adams and contributions from the McGuinness family.
There will also be an exclusive interview with our new Uachtarán Mary Lou McDonald.
test