14 July 2005 Edition
News in Brief 2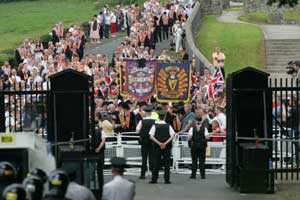 Drumcree quiet
The annual 12 July parade to Drumcree church passed off quietly with fewer Orangemen and less then a hundred supporters gathering on the hill. Speaking during a brief protest Orange Order district master David Burrows insisted that the protest would continue until they were allowed to parade through the nationalist Garvaghy Road.
Successful engagement in Derry
While Orangemen in Portadown were still refusing to talk to their nationalist neighbours, a successful engagement between the Order and nationalist residents in the Bogside ensured an uncontested route through Derry's city centre.
Orange Volunteers
In Stoneyford sectarian graffiti appeared in the run up to the Twelfth. 'Taigs Out' 'Kill All Taigs' (KAT) and slogans in support of the 'Orange Volunteers'- a fundamentalist Christian paramilitary grouping, appeared on natioanlist-owned premises in the County Antrim village.
PSNI ignore loyalist intelligence gathering
Sinn Féin MLA John O Dowd is to make a formal complaint to the Police Ombudsman's office after the PSNI failed to stop Loyalists photographing nationalists at a contentious part of an Orange Order parade in Lurgan on friday, 8 July.
Flag waving loyalists had gathered were observed photographing nationalists going in and out of pubs in the area. A senior PSNI officer at the scene refused to move the loyalist phographers on.
Community Support Network success
In it's first weekend in operation Belfast's recently launched Community Support Network is being hailed as a major success having dealt with over 20 incidents.
Speaking to An Phoblacht co-ordinator Sean Osborne said that over the weekend the group recieved over 20 phones and sent people out to deal with 22 incidents, involving mostly on street drinking.
"All the incdents were sorted out amicably and we also recieved numerous calls from people expressing their gratitiude given that we were responding to calls within 4 to 5 minutes and dealing with the problem straight away".
Special Branch trawl for informers
Sinn Féin councillor Billy Leonard has described an attempt by PSNI Special Branch to recruit a Derry man as an informer as "Stasi-like" policing.
Leonard was speaking after an approach was made to the man, who wishes to remain anonymous, at Coleraine PSNI barracks while he was being questioned about items found in his Kilrea home during PSNI searches in May.
The man said he was approached by two plain clothed PSNI Special Branch members who asked him questions about two named republicans in the Kilrea area and told him to expect further approaches in the coming weeks.
One of the republicans named is a Sinn Féin member whose home was attacked by loyalists with a pipe bomb at Christmas while the other is the husband of Sinn Féin candidate Marie O'Neill who stood in Coleraine in the local government elections in May.
Councillor Leonard said membership of a political party is a right and that the PSNI must accept this. "A number of weeks ago the names of these people appeared on loyalist lists put up in a number of premises in Coleraine by unionist paramilitaries and now we have the PSNI trying to gather information on them by recruiting informants, it just proves that British state collusion still exists".