30 June 2005 Edition
The shelling of the Four Courts
Remembering the Past
BY DAITHI Ó RIAIN
Background
On 7 January 1922, Dail Éireann ratified the Treaty by 64 votes to 57. Those TDs who remained loyal to the Republic walked out of the chambers in protest. This included nearly all the female TDs. As a result, the national movement split and old comrades found themselves on opposite sides.
On 28 March, the Army held a General Convention. The IRA overwhelmingly rejected the Treaty and the authority of those who had accepted it. Óglaigh na hÉireann, now set up a 16-strong executive, as a sort of provisional government to run the Republic. They were: Liam Lynch, Rory O'Connor, Liam Mellows, Joe McKelvey, Ernie O'Malley, Seán Moylan, Frank Barret, Liam Deasy, Tom Hales, Tom Maguire, Joe O'Connor, Peader O'Donnell, Florrie O'Donoghue, Seán Hegarty, Séamus Robinson and PJ Rutledge.
Early on the morning of 13 April, IRA, threatening that if he didn't the British would.
In the face of this threat, instead of continuing the fight against the British, Collins gave in to their demands and ordered an attack on the Four Courts.
At twenty to three, the Free State forces, led by Tom Ennis and Emmet Dalton, ordered the Irish Republican Army to surrender. At seven minutes past four, using field artillery borrowed from their colonial masters, Free State forces began shelling the Four Courts from the corner of Bridgefoot Street and Ushers Quay.
These shots did not hit their target but instead landed in the HQ of the remaining British units in Ireland. (ironically, from where the guns had been borrowed). Collins' cronies continued the attack on the Four Courts every 15 minutes for three days.
At 9am on 28 June, Rory O'Connor issued the following statement through the republican paper Poblacht Na hÉireann:
9am, Wednesday, JWar, which served no one in Ireland. Instead, it played into a trap laid by England, for it allowed them to maintain a hold over Ireland while shifting the focus of republicans to a domestic enemy.
An Phoblacht Magazine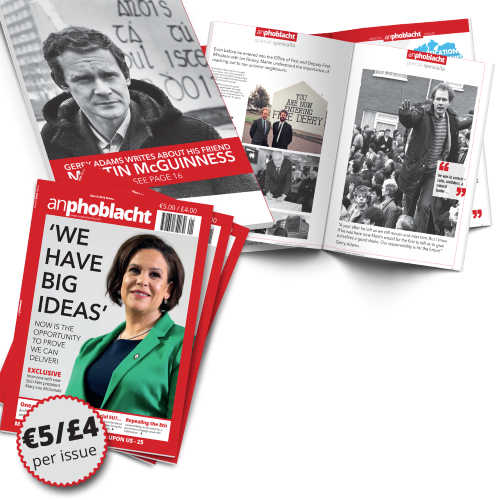 AN PHOBLACHT MAGAZINE:
The first edition of this new magazine will feature a 10 page special on the life and legacy of our leader Martin McGuinness to mark the first anniversary of his untimely passing.
It will include a personal reminiscence by Gerry Adams and contributions from the McGuinness family.
There will also be an exclusive interview with our new Uachtarán Mary Lou McDonald.
test