30 June 2005 Edition
Short Strand remembers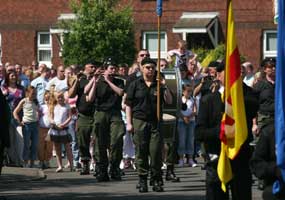 Short Strand remembers
Hundreds of republicans from across Belfast gathered in the Short Strand in the east of the city on Sunday 26 June to mark the 35th anniversary of the 'Battle of St Matthew's' and to remember that fateful night on 27 June 1970, when the district came under siege from loyalist mobs determined to burn down St Matthew's Chapel.
The attack on the area began after loyalist bands returning from an Orange parade on the Springfield Road attacked nationalist residents and tried to invade the district.
One resident, Thomas McGuigan, speaking to An Phoblacht, recalled the frightening events of that night.
"The battle raged from about 11pm that night and right through to the early hours. We were under intense gunfire from loyalists on the Newtownards Road, who were determined to burn the chapel."
McGuigan told An Phoblacht that were it not for members of the newly-re-organised IRA and the local defence group God knows what would of happened.
"The RUC and British Army were in the district but stood idly by while loyalists tried to drive the people out of the Strand. The IRA, armed with only a few weapons between them, managed to defend the people against the loyalist pogroms"
Speaking to the assembled crowd at last Sunday's commemoration, local republican Deborah Devenny said the battle had marked a watershed not just for the people of the Short Strand but the whole republican struggle as a whole.
"It is very important for this community to remember how we felt under attack from loyalist mobs assisted by the British Government and the RUC. After Bombay Street there was writing on a wall in the Falls 'IRA: I Ran Away'. After the battle of St Matthew's, no one could say that any more."
An Phoblacht Magazine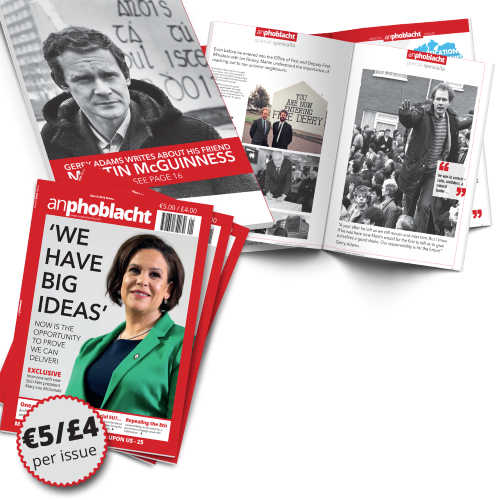 AN PHOBLACHT MAGAZINE:
The first edition of this new magazine will feature a 10 page special on the life and legacy of our leader Martin McGuinness to mark the first anniversary of his untimely passing.
It will include a personal reminiscence by Gerry Adams and contributions from the McGuinness family.
There will also be an exclusive interview with our new Uachtarán Mary Lou McDonald.
test