30 June 2005 Edition
Kelly jailing stupid - Adams
BY LAURA FRIEL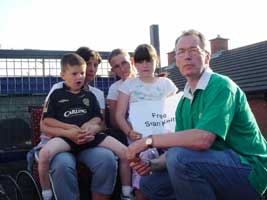 Sinn Féin President Gerry Adams has described Peter Hain's decision to incarcerate former republican POW Seán Kelly as "stupid". Kelly who had been released under the terms of the Good Friday Agreement was arrested and detained after a local Shankill newspaper accused the republican of engaging in sectarian rioting and demanding his licence be revoked.
The allegation, based on a single photograph, has been subsequently refuted by the photographer and in letter by a senior member of the PSNI. The letter was an official response to unionist allegations against Seán Kelly and written just days before his arrest. In the letter, Kelly is exonerated of all allegations.
Attempts by the media to shore up the British Secretary of State's claim that Kelly had been jailed because he had been engaged in serious terrorist activity have lapsed into the totally ridiculous. The Sunday Life claimed he had been "shopped" by fellow republicans "because he was freelancing for rival republicans". To date, the PSNI has not been questioned Kelly about anything, let alone any "serious terrorist activity".
Adams said that other republican former prisoners who acted as stewards during the marching season were now fearful of being returned to prison. "The arrest of Seán Kelly is one of the most stupid things I have heard of in a long time. Seán Kelly is not a dissident. I know he is a hate figure within unionism. He's pro the Good Friday Agreement," said Adams.
Orange parades in nationalist areas are very provocative to local residents said Adams, and we rely upon republicans and former republican prisoners to steward those parades. "A lot of republican former prisoners are questioning why should they risk their licence being revoked."
Meanwhile, the campaign to overturn the British Government's decision is gathering momentum. A rally in the New Lodge Road area of North Belfast on Tuesday 28 June saw up to 200 people attend, including a large contingent of republican activists from North Antrim. Sinn Féin's Gerry Kelly spoke of the anger experienced by republicans throughout Ireland over the arrest.
Tuesday's rally followed last week's pickets in Derry and Hillsborough. On Friday 24 June up to 100 republicans travelled to Hillsborough, County Down, where they held a picket outside Peter Hain's Six-County residence.
Derry republicans also staged a rally calling for Kelly's release in Waterloo Square in the city centre demanding Kelly's release.
East Tyrone Ógra Shinn Féin held a 'Free Seán Kelly' Protest at Coalisland Barracks on Saturday. Upwards of 100 protestors held a protest at the barracks, which has been earmarked for closure.