23 June 2005 Edition
Hain's long road
The reality of the past decade is that political progress was made when the British Prime Minister himself got directly involved in the process and stood up to the anti-Peace Process securocrats within his own system.
In the instances where the securocrats within the NIO managed to gain the ascendancy and regain control of British policy, then one disastrous decision after another was taken. This includes the imposition of suspension legislation, the emasculation of Patten, the failure to demilitarise and the stalling of the human rights and equality agendas.
The malicious determination of Peter Hain to bow to the insatiable demands of rejectionist unionists and securocrats within his own system in the decision to intern Seán Kelly last weekend suggests to nationalists and republicans that Peter Hain is unwilling or incapable of standing up to the very securocrats and spooks that he was once a victim of himself.
Peter Hain should know that if progress is to be made then history tells us that these faceless individuals have to be faced down and their anti-Peace Process agenda defeated.
Given the record of Peter Hain so far and in particular his action around Seán Kelly, he has some distance to travel before he will persuade nationalists and republicans that he is capable of carrying out this task.
An Phoblacht Magazine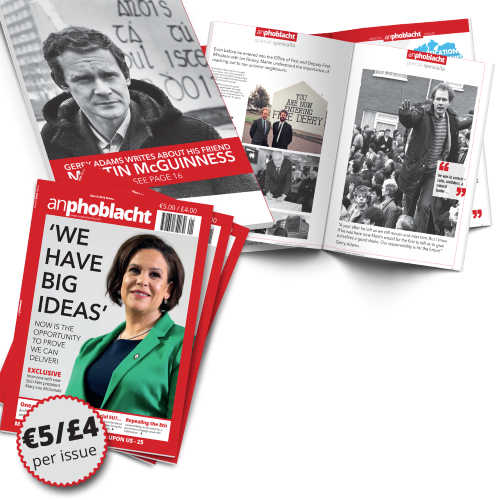 AN PHOBLACHT MAGAZINE:
The first edition of this new magazine will feature a 10 page special on the life and legacy of our leader Martin McGuinness to mark the first anniversary of his untimely passing.
It will include a personal reminiscence by Gerry Adams and contributions from the McGuinness family.
There will also be an exclusive interview with our new Uachtarán Mary Lou McDonald.
test