16 June 2005 Edition
One-way traffic at Croker
BY Matt Treacy
According to the bookies, all of Sunday's senior hurling and football championship matches were foregone conclusions. Certainly, Wexford, Kilkenny and Cork had easy paths to their provincial de-ciders, but Leitrim battled hard to make Galway work for their victory.
There were rumours that all was not well in the Galway camp and they did display some signs of nervousness after Donal Brennan got a goal for Leitrim to close the gap to three points. Although Galway wiped that out with a goal of their own from Paul Clancy and added points to go eight clear, Leitrim mounted a huge challenge in the last quarter. Indeed, had it not been for some vital catches in the Galway backline, Leitrim might have been a lot closer than three points at the end.
In Croke Park, as Martin Comerford strolled through the Offaly defence in the second minute to score Kilkenny's first goal, you just knew that there was only going to be one outcome. Less than two minutes later, Henry Shefflin got a second. Then it was Richie Power's turn, so at the end of the first quarter, despite having scored some nice points, Offaly were nine points behind and you could understand why only 23,000 people had gone to the trouble of turning up.
Apart from being able to admire Shefflin's mastery of all the skills, there was little to stifle the yawns. A little flash of brilliance from the Dodger earned Kilkenny a fourth goal and where the Cats had been an unbackable 1/16 even before the game, you could have offered 1/1600 at half time, which, thanks to Michael Haverty, ended before the allotted extra time was played. I doubt that Offaly will be using his act of kindness as the basis of an appeal to the Leinster Council.
The Offaly backs did improve somewhat in the second half, if only to prevent the Kilkenny full forward line being able to waltz in for goals unimpeded. Having said that, Eddie McCormack and Shefflin still managed to bag two more. In an effort to amuse themselves and the audience, the Cats put over a bewildering array of points from all distances and angles, and ended with ten players on the scoresheet. For their part, Offaly didn't score their first point of the second half until the 23rd minute.
While Wexford, who brushed Laois aside with relative ease, will if only for pride's sake give Kilkenny a better game in the final, it is difficult to see Brian Cody's side being beaten by anyone other than perhaps Cork and maybe Waterford. Indeed it is a sad commentary on the state of hurling that so much effort is being devoted to devising ways of prolonging the championship for the vast majority of counties when in fact it may only be postponing the day when most of them will be put to the sword. That is not an argument against the qualifying system, merely a commentary on how far ahead of the rest Kilkenny, Cork and perhaps Waterford really are. Maybe it just looks bleaker from a Leinster perspective. We shall see.
Donegal and Armagh sounds as though it was exciting but the draw means that they will have to do it all again next Saturday in Clones. Apart from that, the most exciting event on Sunday was the draw for the first round of the qualifiers in football, and the qualifying groups in hurling. The hurling is being played on a round robin basis with the four group members playing each other once and the top two teams going into the quarter finals.
Group One contains Antrim, Laois, Limerick and Galway. On current form, Limerick and Galway are almost certain to come through.
Group Two comprises Dublin, Offaly, Waterford and Clare. Again, it would be a major surprise if the two Munster teams do not qualify. The only thing that can be said in Dublin's favour is that they will have a team having, temporarily at least, solved the management crisis with the appointment of Tommy Naughton. It is a chance to redeem themselves.
The football draw did not produce any really mouth-watering fixtures, as most of the big guns managed to be matched with relatively weak counties — much to the disappointment, I am sure, of others, who will be hoping that the qualifiers significantly reduce the number of strong teams remaining as the series progresses. I know that there were some unkind people in Dublin hoping for say, Westmeath to draw Meath!
The biggest game is probably the clash of Down and Fermanagh at Newry but there are others of interest, even if solely for their curiosity value. The one that caught my eye is Wicklow's home draw against the losers of Armagh and Donegal. Assuming that this will be held on Saturday 25 or Sunday 26, a fit and rested Wicklow, buoyed by their good display against Kildare, will be playing a team that has come through two tough games, with two players, Donegal's Kevin Cassidy and Armagh's Paddy McKeever, already ruled out after receiving straight reds and with the distinct possibility of more suspensions and injuries on Saturday. It is a game that Wicklow might be looking forward to with quiet confidence. We might see Larry O'Toole having a decent team to follow before June is out.
An Phoblacht Magazine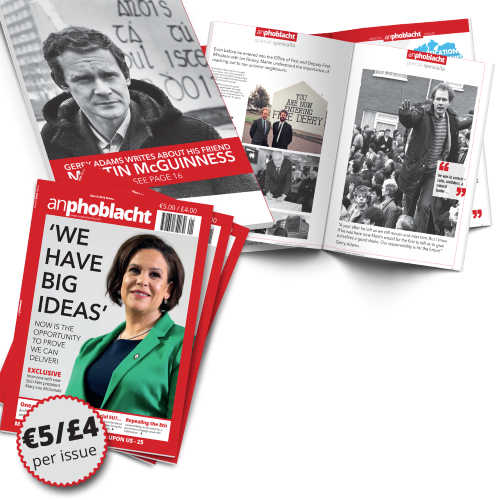 AN PHOBLACHT MAGAZINE:
The first edition of this new magazine will feature a 10 page special on the life and legacy of our leader Martin McGuinness to mark the first anniversary of his untimely passing.
It will include a personal reminiscence by Gerry Adams and contributions from the McGuinness family.
There will also be an exclusive interview with our new Uachtarán Mary Lou McDonald.
test