16 June 2005 Edition
Dúirt Siad
This is more important than even you Brendan.
Journalist Sam Smyth puts Labour TD Brendan Howlin in his box, after being continuously interrupted by the self-righteous one during a debate on the Morris Tribunal. Questions and Answers, RTÉ, Monday 13 June.
Peter Hain has a position now that he will have to prove himself by his actions because he has stated things which are clearly prejudicial, which clearly indicate that he is opposed to unionists.
Ian Paisley Jnr accuses the new Secretary of State of 'republican fanaticism' after the BBC unearthed comments made by Hain calling for British withdrawal from the Six Counties. UTV News, Monday 13 June.
Portmarnock Golf Club is effectively allowed to continue to set a standard that is inimical to any aspirations we might have as a society for greater equality between women and men.
Niall Crowley of the Equality Authority, writing in the Irish Times following the High Court's decision that Portmarnock Golf Club in Dublin is not discriminatory in its practice of not allowing women members. Saturday 11 June.
If successive governments were serious about the dignity of the language, they should have pressed for official standing for Irish long ago. Furthermore, they should have done far more to nurture its growth and development in daily life.
The Irish Examiner welcomes Irish being made an official language of the EU, but criticises Dublin Governments for having little to do with the achievement. Tuesday 14 June.
It is not set in stone and it was never said that it was set in stone.
Michael McDowell's latest publicity-driven plan, this time for cafe bars, gets a knock from Taoiseach Bertie Ahern. RTÉ News, Friday 10 June.
An Phoblacht Magazine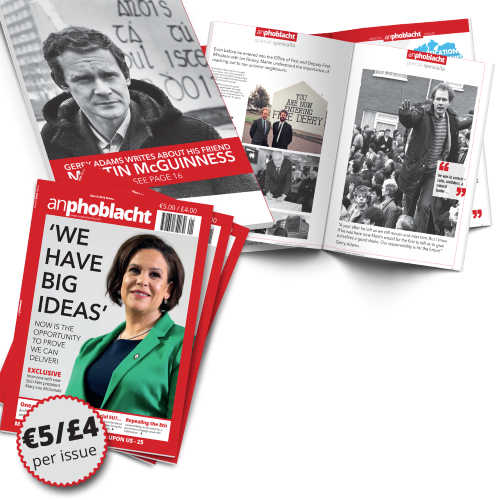 AN PHOBLACHT MAGAZINE:
The first edition of this new magazine will feature a 10 page special on the life and legacy of our leader Martin McGuinness to mark the first anniversary of his untimely passing.
It will include a personal reminiscence by Gerry Adams and contributions from the McGuinness family.
There will also be an exclusive interview with our new Uachtarán Mary Lou McDonald.
test