16 June 2005 Edition
A Left, Green, Republican Coalition?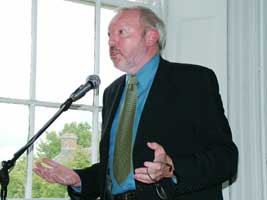 A 26-County general election could be called in 2006. Sinn Féin could be one of a number of parties to hold the balance of power. What should we do?
Already political commentators and party activists are squaring up to examine the potential post-election arithmetic.
Despite protestations to the contrary, polls suggest that the Fine Gael-Labour alliance remains short of sufficient seats to form a government, even with the involvement of the Greens.
In turn, Fianna Fáil's return to rhetorical social democratic politics, coupled with a tough line of the PDs at the cabinet table, promises a revival from their disastrous results in 2004.
Going by present indicators, the most likely government in an early 2006 general election would be a Fianna Fáil Plus coalition. The question is, plus who?
While much attention will be devoted to answering this and similar questions in the coming months, at this stage it may be more useful to examine if we are actually asking the right questions.
Most discussion on the issue of coalition tends to reduce the question of government to post-election number crunching. As a result, there is little public debate about what kind of policy options and consequences would emerge from the various electoral combinations.
Such discussions, whether from political parties or the media, focus too much on the short term. How to gain power becomes an end in itself. The costs justify the outcome, and the result is strange bedfellows converging on the political centre, with little or no meaningful difference in terms of policy or vision.
Against this backdrop, Mick O'Reilly and the Transport and General Workers Union have produced a discussion document on electoral strategy entitled, Labour in its own right, beyond the Fianna Fáil-Fine Gael divide.
The document argues against Labour entering a coalition led by Fianna Fáil or Fine Gael. Instead, Labour should focus on building its own political strength in the medium term by offering a left alternative to the centre-right political consensus offered by the two larger parties.
In doing so, argues O'Reilly, Labour would become the second largest party in the state and could work to form a 'democratic alternative'' offering the 26-County electorate a 'progressive consensus'' including the Greens, left independents and, under certain circumstances, Sinn Féin.
In addition to providing the reader with detailed historical and electoral evidence to pack up its case — that Labour does best when it stands on its own platform — the T&G document offers a brief outline of what such a 'progressive consensus' would look like.
Four key themes are outlined. Expansion: an end to the low tax, low spend, low serviced economy in favour of a European economic and social model. Egalitarian: tackling poverty and social exclusion. Democratic: favouring participatory democracy in the political and economic spheres. Sustainable: a commitment to the environment and sustainable economic development.
The document concludes: "This expansionary, egalitarian, democratic and sustainable programme can win over a majority [of the electorate] on the basis of a new common sense. It is a long-term programme with identifiable short-term goals. It requires political will and imagination. But most of all it requires a strategy to oversee its implementation."
Despite the patronising and factually inaccurate comments about Sinn Féin, this is a well-written and important document.
While primarily aimed at provoking discussion within the Labour Party and Trade Union Movement, it has implications for all of us working to transform Irish society. Indeed, it is opening a debate that should be welcomed and responded to by all progressive and left-wing political forces in Ireland.
Sinn Féin activists should read the T&G proposals, and the party, at a national level, should respond to them formally. Such a response should have a number of aims.
Firstly, it would allow us to debate the question of coalition from a more long term and strategic point of view. Any considerations of the 2006 general election would be placed in this context. Sinn Féin's response would be determined by long-term objectives rather than short-term gains.
The outcome would be a greater ability to shape the future government we want, rather than allowing the larger parties to set the agenda and dictate the terms of our involvement inside or influence from outside the cabinet.
The allure of influence in the short-term would give way to the realisation that greater influence is available in the medium to long-term.
Secondly, Sinn Féin should seek to republicanise the T&G's proposals. The document has four pillars to its 'progressive consensus'. All four are already in line with Sinn Féin policy, and could easily be expanded to include key Sinn Féin demands.
The democracy theme could be developed to include national political re-unification as one of its key goals. The all-Ireland economy would enhance the stated expansionary economic programme. Our critical engagement with the EU and involvement with GUE/NGL would strengthen the commitment to a European social model in an increasingly neo-liberal EU.
In addition, the implicit partitionism contained within the document could be challenged, by adding the Peace Process to its core programme. This would fully integrate the short-term issues of conflict resolution — policing, demilitarisation, power sharing — with medium to long-term issues of national reunification and building an Ireland of equals.
Thirdly, by seriously entering this debate and responding in the way suggested above, it would allow republicans to successfully resolve that historic tension between the national and socio-economic objectives of our movement. A republicanised 'progressive consensus' would incorporate the strength of a nationalist consensus with a real commitment to an Ireland of equals.
In the context of an expansion of the Labour and Green parties into the Six Counties, it would also play an important role in undermining the sectarian straightjacket imposed on northern political life by partition.
Such a left, green, republican coalition would not only break the mould of 20th Century Irish politics, North and South, but would allow Sinn Féin to overcome one of the central strategic conundrums which all earlier left republican political formations failed to resolve.
As the 26-County general election approaches and republicans ask ourselves, what we should do, the Transport and General Workers' Union document reminds us that we have two choices.
Should we settle for short-term gains at the expense of long-term success? Or, should we begin the longer-term process of building a real, national, left republican alternative to the right wing, partitionist consensus that presently dominates Irish politics North and South?
The T&G document does not pretend to have all the answers, but unlike many other contributions to the coalition debate, at least it is asking the right questions
An Phoblacht Magazine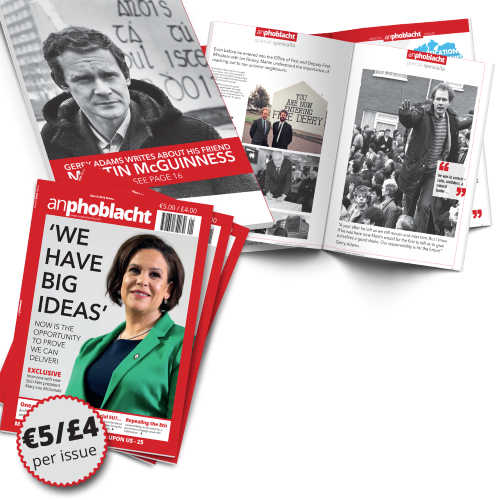 AN PHOBLACHT MAGAZINE:
The first edition of this new magazine will feature a 10 page special on the life and legacy of our leader Martin McGuinness to mark the first anniversary of his untimely passing.
It will include a personal reminiscence by Gerry Adams and contributions from the McGuinness family.
There will also be an exclusive interview with our new Uachtarán Mary Lou McDonald.
test