9 June 2005 Edition
PSNI accused over hit and run death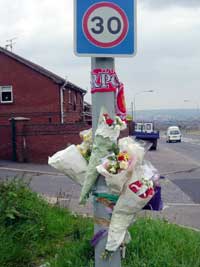 The family of a West Belfast man killed when a PSNI Land Rover hit him on the Springfield Road are questioning the PSNI's version of events.
Jim McMenamin (29) was struck and killed by the PSNI vehicle as he crossed the road outside Gort na Mona GAC at around 1am on Saturday 4 June.
It is understood McMenamin was crossing the road and was standing on the white diagonal markings when the PSNI vehicle hit him.
In their version of the accident, the PSNI claimed the patrol stopped and administered first aid at the scene, however this is disputed by local residents.
People at the scene claimed that McMenamin died instantly and that the PSNI left the scene within minutes.
Colm McMenamin, the dead man's brother, said: "The PSNI claimed to have given Jim first aid at the scene but he was killed outright. The PSNI who were in the Land Rover left the scene straight away and were taken to New Barnsley PSNI Barracks. It was there that the driver of the Land Rover was breathalised and not at the scene, as is the usual practice.
"If it had been a joyrider who hit my brother, it would have been another crime if they then drove on for leaving the scene of a crime. Those four men were able to leave the scene within five minutes."
McMenamin also pointed out that the length of the skid marks on the road suggest that the PSNI vehicle was travelling at more than the speed limit of 30mph at the time it hit his brother.
"I saw the damage to the front of the Land Rover; if you had hit a cow at 30 miles an hour it wouldn't have caused as much damage. The front of those vehicles are really solid, especially where the grille is and yet there were dents on the grille and bonnet".
Sinn Féin President Gerry Adams says many serious questions need to be answered about the circumstances surrounding the killing of Jim McMenamin and the role of the PSNI and its behaviour immediately after the incident.
"There is serious disquiet in the local community, shared by the family, that the PSNI handling of Saturday's incident gives real concern," he said. "The family want no cover up — they want the truth."
Adams called on anyone who may have witnessed the incident to contact the Police Ombudsman's office, which is investigating.
"I am appealing to anyone who saw anything or who has any information to bring that forward to the Police Ombudsman. It is important that this is done in conjunction with a solicitor," concluded Adams.