9 June 2005 Edition
Criminality, Collusion and Cover-up
BY MARTIN MCGUINNESS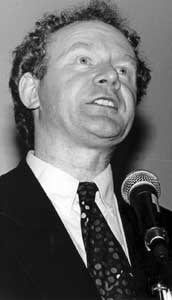 The revelations in the Morris Tribunal Report this week would have been astounding if not for the fact that most of us already knew what Morris exposed officially.
But what is astounding and would be unacceptable in any other jurisdiction in the free world is that a Commissioner of Police and a Justice Minister who were guilty of overseeing the operation of a Police Service while ignoring all of the warning signs of corruption, collusion and cover-up within that service are not to be held accountable.
Will the Morris Report lead to root and branch reform of the Gardaí? I don't think so, because the arrogance of the present Irish Justice Minister knows no bounds and I don't believe that he will accept, despite all of the evidence, the need for an Independent Garda Ombudsman. That would be to accept that there is something fundamentally wrong with the manner in which he has conducted his responsibilities not just as Justice Minister but also as Attorney General when the allegations in the McBrearty case first emerged.
It's not as if Mr McDowell only became aware of the facts of the McBrearty case with the publication of the Morris Report last week. Frank McBrearty Jnr claims that he informed Michael McDowell about what happened to his family as far back as nine years ago, when McDowell was Attorney General, and he failed to take any action. The least that an Attorney General should do if there are allegations of wrongdoing in the police service would be to set up an inquiry. Such dereliction of duty would not be tolerated in any other walk of life. Because of his inaction, the McBrearty family were forced to endure nine years of untold suffering and hardship.
It's not as if there was no precedent for Garda corruption and cover-up going back many years and covering instances such as the Kerry Babies case, the Sallins Train Robbery, the Frank Shortt case and the Garda Heavy Gang. Resistance to scrutiny of state bodies within the Irish political establishment must end if true democracy is to be developed on this island. It is hypocritical to say the least for Irish Government Ministers to lecture others on the principles of democracy whilst at the same time presiding over a system rife with corruption, criminality and cover-ups.
Of course, this attitude by government ministers who fail to accept responsibility for their actions when things go wrong does not apply solely to this Minister. But in this Ministry, failure to ensure openness and transparency inflicts hurt and suffering that can never be erased on innocent citizens who are supposed to be protected by the State.
I have great admiration for the McBreartys' for the courage that they have shown in challenging the establishment knowing that all the powers of the state would be used to disprove their allegations. I wish them every success and hope that they can find closure on this episode in their lives and go on to enjoy good health and good fortune in the future.