2 June 2005 Edition
Sinn Féin reps talk tactics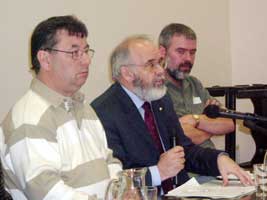 In the wake of the recent elections, Sinn Féin representatives gathered in Gulladuff, County Derry this past weekend, to participate in the party's National Elected Representatives Forum.
Joe Reilly was on hand to welcome his party colleagues to the centre and chair the day's proceedings. Declan Kearney provided the group with a brief political overview of current policies and procedures.
Broaching the ever-controversial topic of political contact with crown forces, Kearney clearly articulated Sinn Féin's continued opposition to the Policing Board. He left no doubt as to the party's position, effectively squashing the never-ending media speculation that Sinn Féin would soon take its seats on the board.
Seán Oileabhair updated representatives on a variety of topics, including the ongoing review of public administration and Sinn Féin's policies on waste management, re-cycling and incineration.
"Due to looming EU targets, the British are emphasising incineration to dispose of waste as opposed to recycling," he said. "Sinn Féin wants all-Ireland enforcement of a waste reduction policy that is environmentally sound and sustainable.
"We want incineration banned, and we encourage our activists to refuse to allow incineration sites to be situated in their areas. We want to prioritise funding for recycling services."
Francie Molloy MLA spoke on the subject of cross-border bodies and looming water charges.
"The British Government's proposals to introduce water charges is more about decades of neglect and underfunding than any EU requirements," said Molloy, "The real aim of the EU directives is to reduce use. Sinn Féin remains firmly opposed to the introduction of water charges and we will actively oppose their introduction."
Chrissie McAuley, who chairs Sinn Féin's Equality committee, spoke to delegates about the Equality agenda in council chambers. She was quick to emphasise the continued opposition to change and equality that still emanates from all sections of the establishment.
"Every council has its Equality Scheme in place," she said. "However in our experience, instead of councils - particularly those which are unionist dominated — adhering to equality mainstreaming, we have the same old story of resistance, excuses and minimal compliance."