2 June 2005 Edition
Belfast deal excludes Sinn Féin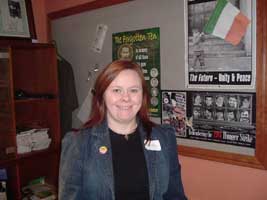 Sinn Féin's Paul Maskey has accused the SDLP and DUP of doing a deal to elect their candidates for the posts of Mayor and Deputy Mayor at the AGM of Belfast City Council on Thursday 26 May.
DUP man Walace Browne secured the post of Mayor, with the votes of the SDLP and Alliance party councillors, while the SDLP's North Belfast councillor was installed as Deputy Mayor, with the backing of the 15 DUP councillors as well those of Alliance.
Sinn Féin had proposed Councillor Caral Ní Chuilín for the position of Mayor and Danny Lavery for the Deputy Mayoral position.
Speaking after the meeting, Maskey, the Sinn Féin leader on Belfast Council, told An Phoblacht that a deal was done to exclude Sinn Féin.
"In our meetings with other parties during the past week we put forward a proposal that would see the mayoral position rotated between the four main parties during the next four years," he said. "But after tonight's election it is clear that this fair and equal plan has been rejected."
It is also thought that Alliance agreed to back the DUP bid for the Mayorship of Belfast as long as two weeks ago, in return for Deputy Mayoral positions in the DUP-dominated Castlereagh and Lisburn councils.
Two weeks ago, the DUP's Paul Craig took the Mayor's chain in Lisburn with Alliance support. In return, the party's Trevor Lunn was installed as Deputy Mayor.
Limavady
Unionist councillors walked out of a meeting of Limavady Borough Council on Monday 23 May after a Sinn Féin motion to introduce the d'Hondt power-sharing system was introduced.
The motion received the support of the SDLP councillors on the council.
All six unionists councillors, three DUP, two UUP and one independent unionist walked out saying they were "feeling very much betrayed at this point in time".
At the meeting the SDLP's Michael Coyle was elected Mayor of the council, with Marion Donaghey of Sinn Féin getting the post of Deputy Mayor.
Omagh
Sinn Féin Councillor Barry McElduff accused DUP Councillor Tom Buchanan of, "being in denial" and acting in a "churlish and juvenile way" after the DUP politician refused to acknowledge the newly-elected Sinn Féin chair of Omagh District Council, Mickey McAnespie.
The incident occurred after last week's AGM, which saw McAnespie elected to the chair and Independent Paddy McGowan elected as vice-chair.
Buchanan rose to welcome McGowan's election but ignored McAnespie.