2 June 2005 Edition
Anger as flawed Disability Bill is passed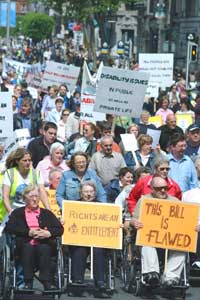 The Disability Bill was forced through the Dáil by the FF/PD Government last week after months of intense campaigning, lobbying and debating by the many groups who are dismayed at a Bill that is fundamentally flawed and may, in fact, restrict the rights of people with disabilities.
The Sinn Féin team in Leinster House fought long and hard to defeat this Bill, or at least to amend it to make it rights-based. The party's spokesperson on Justice, Equality and Human Rights, Aengus Ó Snodaigh, was the most vocal of all the opposition deputies in the house. He tabled, with the help of his PA, Shannonbrooke Murphy, dozens of rights-based amendments and fought hard in the Dáil chamber to have them accepted. Even when it seemed that other parties in opposition (namely Labour and Fine Gael) had given up, Aengus was still debating and pressing his amendments right up until the Bill was guillotined on Thursday afternoon. When the Sinn Féin amendments were not adopted, the TDs were forced to vote against the Bill, but it was passed by 58 votes to 42.
The Sinn Féin position on disability legislation is clear. As republicans we believe in the core principle of equality. Our primary objective is to build a fully inclusive united Ireland of equals. There must be no discrimination. This Bill does not provide for that, in fact in some cases it may restrict the rights of people with disabilities. It only provides what the government are willing to spend, rather than what disabled people are entitled to as a right. It provides the government with the ultimate defence for denying people's rights, as they will now be able to cite resource restrictions.
Unfortunately, this State will not see rights-based legislation for people with disabilities while the Fianna Fáil/PD coalition holds power. The PDs have consistently shown that equality is not a core principle for them. In fact, Michael McDowell has stated that he believes inequality is not a bad thing. Ó Snodaigh highlighted this arrogance towards people with disabilities in the Dáil on Thursday, when he said:
"It is a pity the senior minister responsible for this legislation, the Minister for inequality, has not bothered his arse turning up here at any stage of the debate."
McDowell was in America last week when the Bill was voted on, avoiding the many disability groups who had turned up at the gates of Leinster House to demand the rights that the Minister has played the lead role in denying.
This is not to say that Fianna Fáil is a party that champions equality. They had ample opportunity to amend this Bill to make it rights based.
Sinn Féin Dáil leader, Caoimhghín Ó Caoláin, got thrown out of the Dáil and suspended for two days when he challenged the Taoiseach take a lead in providing rights based legislation for people with disabilities. The Taoiseach said: "We will try everything we can to make this legislation as perfect as possible but we are not about to include a provision which is not in legislation anywhere in the world and has never been done in this country. It is wrong for Members to advise people to keep pressing for something which is impossible."
Ó Caoláin replied: "It is not good enough for the Taoiseach to say rights-based legislation of the type sought does not exist in any other jurisdiction. So what? What is wrong with this country taking the lead in terms of a global approach to the needs of people with disability? What is wrong with Ireland setting out best practice and giving a lead in the world on such matters? It is time we did so and had the courage to give leadership in such important issues."
There was widespread anger when the Bill was passed on Thursday afternoon. The National Association of the Mentally Handicapped of Ireland (NAMHI), the Forum of People with Disabilities and the National Parents and Siblings Alliance (NPSA) all said it was "fatally flawed" and needed to be radically changed. The executive chairperson of the Irish Wheelchair Association (IWA), Molly Buckley, said the government was still treating disabled people as second-class citizens.
Aengus Ó Snodaigh said the result "represents a slap in the face to all those people with disabilities, their families and advocates who were led on a two-year merry-go-round of repeated consultations in the hope that this government would finally live up to its responsibilities to acknowledge and deliver their rights".