26 May 2005 Edition
Quality on show in Thurles
BY Matt Treacy
In Thurles on Sunday, Waterford confirmed that last year's defeat of Cork in the Munster Final was no aberration. Despite doubts over two of their key players, Ken McGrath and Paul Flynn, they pushed the All-Ireland Champions to the limit and might have won, had it not been for the manner in which Cork reacted, in particular a brilliant goal from Brian Corcoran at a stage when Waterford had gone five points ahead early in the second half.
As Waterford proved in their victory over Cork last June, and in their semi-final against Kilkenny, they are not easily beaten. The first half last Sunday witnessed an amazing turnaround in fortunes that had them three points ahead at the break, following goals from Dan Shanahan and Paul Flynn and a series of points from Eoin Kelly, who was making a mockery of Seán Óg Ó Hailpin's exalted reputation.
Waterford might have been expected to continue that dominance but in fairness to Cork they were able to restrict the Waterford forwards to just six points in the second half, and only one of those came from play. Cork proved that they are able to cope with adversity and to cut their cloth to suit the measure of the day. So while the second half did not live up to the excitement of the first, and while the match overall did not attain the dizzying heights of last year's classic, the champions will be reasonably satisfied. Waterford will rue some of their missed chances but must be confident that they will prove more than a match for any of the teams they are likely to meet in the first rounds of the qualifiers, and of again reaching at least the semi-finals.
Dubs in doldrums
Certainly, one team Waterford will not be fretting over are Dublin, who departed the Leinster Championship in rather meek style, losing by 12 points to Laois. Three or four years ago, Dublin were considered to be on a level par with Waterford and had an excellent record against them in the league. That was at a time when Dublin were enjoying moderate success at minor and under-21 level and building a team around players like Conal Keaney that even serious commentators outside the ranks of deluded Dublin hurling supporters were talking of as possessing potential. All of that looks frankly ridiculous now, with the senior team in a downward spiral of appaling defeats unequalled for decades. I am sure Humphrey Kelleher has the best interests of the county at heart and the current panel of players do their best. Unfortunately, there are some people on the Dublin County Board who have no more interest in hurling than they do in synchronised swimming. The best that can be hoped for now is an honourable exit from the qualifiers.
Lovely Leitrim
A word finally in praise of Leitrim, who beat Sligo at Carrick-on-Shannon. The best weekend of last summer for me was after the Dublin and Leitrim game, especially in Niblocks of Gortletteragh, home of the great Séamus Quinn (the townland not the pub!), of current goalkeeper Cathal McCrann and Darren Duignan. Duignan came on as a substitute and scored two excellent points, one to level the match and another to put Leitrim ahead with 15 minutes left, a lead they extended to five points by the end. Leitrim now face Galway in the Connacht semi-final.
Setanta postscript
I'm like a dog with a bone now regarding the Setanta Cup, so a brief few lines on last Saturday's final between Shelbourne and Linfield seems appropriate. According to people who were there, the game was played amidst a nasty atmosphere, with strict crowd segregation and rival ritual flag burnings and exchanges of pleasantries. There were also clashes after the game, including one incident in Bertie's Drumcondra local, Fagans, where glasses were thrown and at least one person was injured.
While there was obviously a need to properly steward the game, some of those who attended appear to have legitimate complaints regarding their treatment. One person I spoke to arrived at the ground with his brother, both having tickets and neither of whom had been drinking, and they were refused entry. The reason they were not allowed in was because they had a tricolour. They were given the option of "fucking the Tricolour into the Tolka" or leaving. So they left. They were both pretty annoyed, and with reason, especially given the amount of Union Jacks and loyalist flags that were in the ground.
I'm not sure what that says about the future of an all-Ireland soccer league but if it is to be a success then soccer supporters from all sides will have to begin to accept the presence of what they might consider to be offensive flags and jerseys as part of the price. We all know the old joke about Paisley waking from a coma to hear that Linfield have won the All-Ireland. Well in way they did just that on Saturday, and I'm sure that we would all like to see them do so in the future and that in the All-Ireland Republic such games are played in a friendlier atmosphere... Now, I'm off to join the Alliance Party.
Soccer fans for Palestine
On Saturday 4 June the Israeli and Irish soccer teams play at Lansdowne Road. The Ireland-Palestine Solidarity Campaign (IPSC) is calling on anti-war activists, football supporters and the general public to use this major sporting occasion to call for justice for Palestine.
The following day marks the 38th anniversary of Israel's occupation of the West Bank, Gaza Strip and East Jerusalem. Since then, Palestinians have endured a brutal military occupation, which has caused the deaths, in the past four years alone, of over 3,600 Palestinians.
During the 1970s and 1980s, Irish sporting fans showed their opposition to Apartheid by boycotting sporting events with South Africa. The IPSC is asking you to show that same solidarity with the people of Palestine by demonstrating against occupation on 4 June and is asking those attending the match to wave Palestinian flags.
An Phoblacht Magazine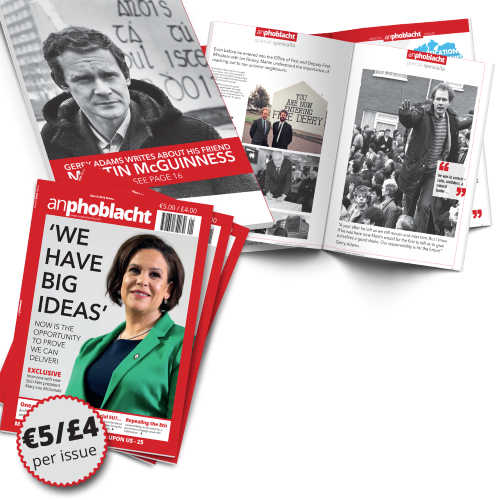 AN PHOBLACHT MAGAZINE:
The first edition of this new magazine will feature a 10 page special on the life and legacy of our leader Martin McGuinness to mark the first anniversary of his untimely passing.
It will include a personal reminiscence by Gerry Adams and contributions from the McGuinness family.
There will also be an exclusive interview with our new Uachtarán Mary Lou McDonald.
test