19 May 2005 Edition
School staff day of actions over cuts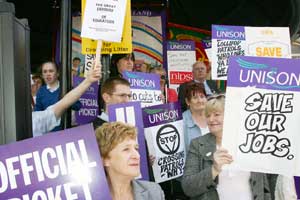 Sinn Féin President Gerry Adams has pledged the party's support to the campaign by education workers who are protesting against the British Government's massive cuts to the North's education budget.
Adams also said Sinn Féin supported the strike action carried out on Friday 13 May by workers throughout the Six Counties in opposition to the cuts, imposed by the British Government on the North's education boards, which threaten to reduce the education budget by £100 million over the next three years.
Up to 10,000 members of the North's three largest trade unions stopped work on Friday in protest against the cuts.
The staff from NIPSA, UNISON and ATGWU, whose members include classroom assistants, school cleaners, crossing patrol staff and clerical staff, voted in favour of the one-day strike against the decision by five education and library boards to enforce multi-million pound cuts to vital services.
Pickets were mounted outside education board headquarters, while there were marches and rallies in Belfast and Derry city centres.
Calling on Britain's Labour Government to abide by their manifesto promises on education, NIPSA General Secretary John Corey said that the workers were sacrificing their pay and had taken to the streets to defend the future of education services for children.
Adams said that Sinn Féin representatives were standing shoulder to shoulder with trade unionists in opposing the cuts to vital education services.
"Sinn Féin has been in contact with the new Minister for Education Angela Smith and have asked for a meeting to discuss the British Government's budget slashing programme that has resulted in such devastating cuts to school services," he said. "It is essential that we collectively display our opposition through protests organised by the Trade Unions and it is also important that we confront the Minister responsible while working towards securing a new Assembly with local ministers."