19 May 2005 Edition
Shameful sectarianism
Wednesday's decision by the DUP to continue to exclude Sinn Féin from positions on Lisburn Council is a shameful example of the politics of exclusion practiced by that party over many years.
That the Alliance Party chose to cut a sordid deal to enable the DUP to implement this exclusion of that section of voters who elected four Sinn Féin councillors is equally shameful.
And Patricia Lewesley of the SDLP compounded this policy of exclusion by accepting a committee chair, providing a fig leaf for the DUP's bigotry in ignoring Sinn Féin's democratic mandate.
In Moyle, where Sinn Féin's Oliver McMullen was elected chair, his first act was to implement the d'Hondt system of power sharing so that the elected positions on the council could be shared. Even here, DUP members tried to block this sensible and equality-driven approach and refused to accept a deputy chair position.
Lisburn Council has been a bastion of unionist discrimination in the North and it is a cause for concern that, eight years after the Good Friday Agreement, unionists remain in a mindset that precludes power sharing
The onus is now on the British Government to act to make it binding on councils like Lisburn to have in place power sharing arrangements and other checks and balances to curb discrimination in relation to council services and facilities.
It is a disgrace that invited representatives of the Dublin Government did not turn up to witness Lisburn Council's latest AGM of shame. The Dublin Government has a responsibility to intervene on behalf of northern nationalists where rights are denied.
Sinn Féin voters and their elected representatives will not accept second-class citizenship and will campaign vigorously to force an end to Lisburn Council's bigotry.
An Phoblacht Magazine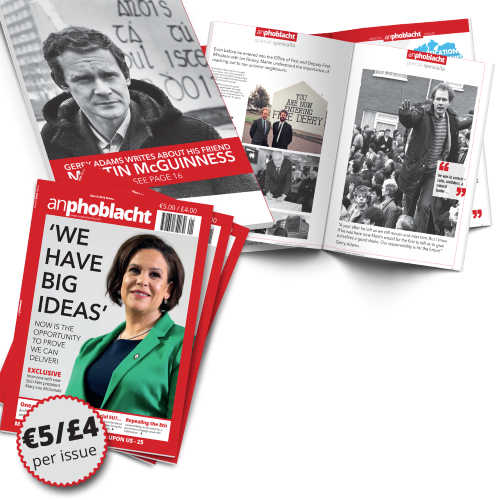 AN PHOBLACHT MAGAZINE:
The first edition of this new magazine will feature a 10 page special on the life and legacy of our leader Martin McGuinness to mark the first anniversary of his untimely passing.
It will include a personal reminiscence by Gerry Adams and contributions from the McGuinness family.
There will also be an exclusive interview with our new Uachtarán Mary Lou McDonald.
test