5 May 2005 Edition
Positive message wins voters
A glance at some of the usual rags this week provides an interesting glimpse into the confused and confounded world of Sinn Féin critics.
They are not happy bunnies. Their opinionated editorial lines from Sunday until today reveal shock, upset and finally, resignation to the fact that Sinn Féin will do well in the Westminster elections.
However, had they paid any attention to the political goings-on in the Six Counties outside of the spin from their 'security sources', they wouldn't find this so hard to understand.
For this entire election campaign, Sinn Féin has been the only party pushing a positive, progressive message for change.
The DUP has rallied around its usual 'No' banner and attacked its fellow unionist party with a fervour more typical of its onslaughts on republicans. The UUP, in the shape of David Trimble, has been fighting, Chemical Ali style, in its remaining support grounds, refusing to acknowledge Paisley's party snapping at its heels and barraging voters with promises of a return to negative unionism if it keeps a few seats.
The SDLP has managed to run the most negative campaign of all. It has used every and any opportunity to take swipes at Sinn Féin, its bellowing drowning out the actual demands of the nationalist electorate.
Even the independent candidates, such as Kieran Deeny, have leap-frogged from their allegedly non-sectarian one-issue campaigns to slagging off their rivals, which more often than not means slagging off Sinn Féin candidates.
Through all of this negative and increasingly vitriolic campaigning, Sinn Féin has kept above the insult throwing and back-stabbing.
The party's candidates have knocked on doors and asked voters what they want from the coming elections and how they see politics developing in the Six Counties.
They have explained Sinn Féin's view of the futu
An Phoblacht Magazine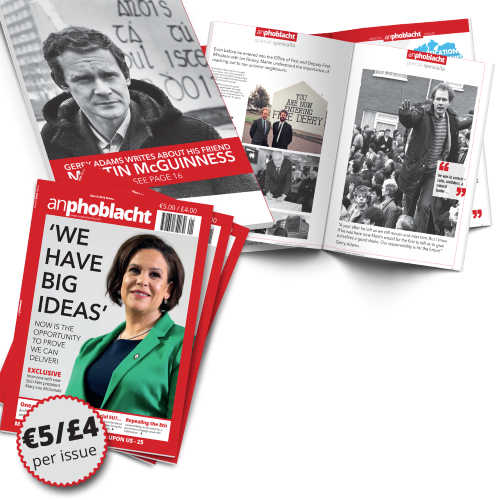 AN PHOBLACHT MAGAZINE:
The first edition of this new magazine will feature a 10 page special on the life and legacy of our leader Martin McGuinness to mark the first anniversary of his untimely passing.
It will include a personal reminiscence by Gerry Adams and contributions from the McGuinness family.
There will also be an exclusive interview with our new Uachtarán Mary Lou McDonald.
test