21 April 2005 Edition
Sinn Féin must invest in the West
Castlebar Town Councillor and Connacht/Uladh PRO NOEL CAMPBELL argues the case for Sinn Féin to prioritise the western region as it re-structures the party
The Fianna Fáil/Progressive Democrats Government has washed its hands of Connacht. For some time now, it has been acutely aware that there are little political gains to be made in the province, especially in counties like Mayo, for the government parties. Recently, in a Dáil debate, the Minister of State at the Department of Enterprise, Trade and Employment, Tony Killeen, shocked nobody by clarifying his government's approach to regional development by stating: "Investment will be prioritised where the best economic return can be gained." The word 'economic' could just as easily be replaced by the word 'political' in this instance.
Far from putting our money where its mouth is, this and previous governments have not had the courage or foresight to adequately fund the development of the west to its full potential. As a result of the above, we are left with a commercially unattractive region that, if unchecked, will fall far behind not only other Irish regions but European models also.
The government's neglect of the west has been blatant. Only 54% of the forecasted NDP expenditure on national roads in the BMW region to the end of 2004 has been spent, while the south and east region reached 121%.
After throwing report after report and survey after survey at rail development, we are told by An Taoiseach that he has committed his government to opening up the Western Rail Corridor from Sligo to Ennis. At a cost of €350m for the corridor's stations, track, trains and signalling, this amounts to just half the proposed expenditure on the Red Cow roundabout! You have to wonder why it took a campaign of over 20 years to achieve this relatively small financial commitment from any government that claims to be dedicated to correcting regional imbalance.
With Knock Airport estimating 400,000 passengers to travel through the airport this year, the calls for a second terminal there may not be premature.
The story of the Corrib Gas field is one of lost opportunity for the west. With industry citing the unreliability of Connacht's ESB energy supply as a major deterrent for committing to the area, the piping of gas to major towns and cities in the region should have been an obvious step to remedy this deterrent.
Yes, the adoption of the government's NDP, National Spatial Strategy and decentralisation means taking difficult decisions, but that is what is needed. Currently, it is Fianna Fáil and the PDs who are failing the west, but one look at the track record of Fine Gael and you can see how that party has helped get the west to the poor state it is in today. Fine Gael's potential partners in government, Labour and the Greens, see no immediate political strength to be gained in Connacht. Sinn Féin, in its promotion of an 'Ireland of Equals', must see that an Ireland of Equals is made more than a slogan. We cannot and should not rest on the hard won successes, both electoral and in terms of creating change, which have been achieved in Dublin.
There are many people in Connacht looking for the change Sinn Féin advocates. This was evident in the success we achieved there in the last local and European elections. Our party's next step must be to create a natural Connacht-based identity within the party that can harness the influence of all our elected representatives and activists in the province and that the people of the province can identify with. That identity would be the vehicle upon which Sinn Féin could deliver our message of real western development, a message that is increasingly relevant to all five Connacht counties.
No other party has mastered such an approach and so Sinn Féin must take the lead; otherwise the party's approach to western development will become haphazard and ineffectual.
It is for that reason that Sinn Féin must be prepared to invest in Connacht. What is needed initially is real investment in the shape of a meaningful party structure in the province, necessary financing and signs that the party is committed to the region, with frequent visits from the party leadership. It should not be seen as a gamble of resources, as the FF/PD government would see it. The rewards are there. If we are to ask any government to invest in a region, we must show that that region is worth investing in by doing so ourselves.
The current government's approach has shown us that counties that are ignored by government will in turn ignore the government during elections. Mayo, for example, has only one government TD out of five. As other parties retreat from the province, this is a challenge we cannot turn away from. We owe it to the people of Connacht, to ourselves and to those who have struggled there and are no longer with us.
An Phoblacht Magazine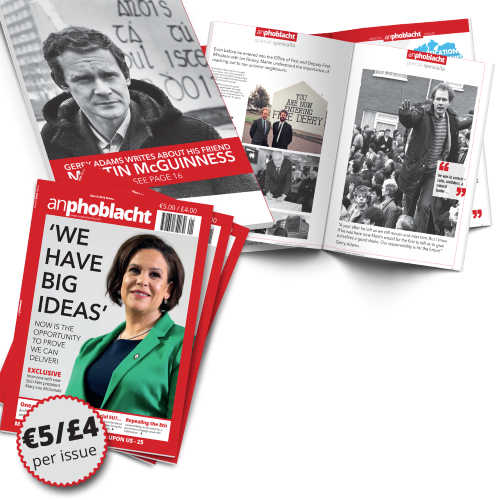 AN PHOBLACHT MAGAZINE:
The first edition of this new magazine will feature a 10 page special on the life and legacy of our leader Martin McGuinness to mark the first anniversary of his untimely passing.
It will include a personal reminiscence by Gerry Adams and contributions from the McGuinness family.
There will also be an exclusive interview with our new Uachtarán Mary Lou McDonald.
test