21 April 2005 Edition
SDLP in disarray
Just two weeks from polling day, the SDLP is a party in serious trouble.
There has been the Deeny disaster in West Tyrone, with the party leadership forced to impose a candidate over the wishes of the local organisation.
We had Alasdair McDonnell, a member of a supposedly left wing party, welcoming Michael McDowell, president of the very right wing Progressive Democrats, to Belfast. The SDLP man, standing in a constituency with a recent history of racist attacks, saw nothing wrong in currying support from McDowell, a hugely controversial figure because of anti-immigration policies that saw Gerry Adams this week dub him a racist.
Then on Wednesday, at what was supposed to be an upbeat manifesto launch, SDLP leader Mark Durkan was forced to publicly contradict two of his most senior party representatives.
His stated opposition to the DUP's notion of a 'voluntary coalition' in the Northern Assembly to exclude Sinn Féin was a very public snub for senior colleagues Eddie McGrady and Alasdair McDonnell.
In recent months, both men have publicly advocated this scenario.
It is clear that there are deep divisions within the SDLP leadership about the future direction of the political process and serious questions to answer about the political judgment of some senior party members.
Progress in the peace process can only by secured through inclusive dialogue and engagement. That is the lesson of Hume/Adams. The politics of exclusion as advocated by McGrady, McDonnell and the DUP have failed us for decades and will inevitably fail again in the future.
An Phoblacht Magazine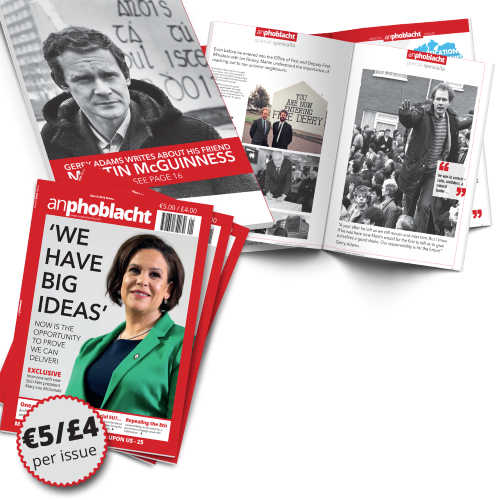 AN PHOBLACHT MAGAZINE:
The first edition of this new magazine will feature a 10 page special on the life and legacy of our leader Martin McGuinness to mark the first anniversary of his untimely passing.
It will include a personal reminiscence by Gerry Adams and contributions from the McGuinness family.
There will also be an exclusive interview with our new Uachtarán Mary Lou McDonald.
test