14 April 2005 Edition
Opportunity must be grasped
Last week, Gerry Adams made an appeal to the IRA to commit itself to purely political and democratic activity.
That initiative means that there is now no possible excuse for the Peace Process to remain in stagnation.
The governments have to move it forward. They must respond positively to this initiative and live up to the commitments they made in the Good Friday Agreement on a range of issues and have failed to implement.
There is a need for all parties to return to the negotiating table after next month's elections in order to get the institutions back up and running and to enhance the Peace Process.
Gerry Adams has said that, withstanding their public scepticism, the unionists understand that this is a serious effort to create conditions to put the Good Friday Agreement back on the tracks.
While the process of internal consultation within the IRA is the crucial one, all republicans and nationalists and others must heed Gerry Adams' call to debate the future direction of our struggle.
In many ways this is about the future for the people of this island.
The task in the short term is to get the process bedded down and the Good Friday Agreement up and running, including and particularly the all-Ireland agenda.
The Sinn Féin leadership will use whatever influence it has to bring other republicans along the road outlined by Gerry Adams.
Sinn Féin wants to see a United Ireland with a national republic on this island and there is the ability, support and the potential to achieve this.
An Phoblacht Magazine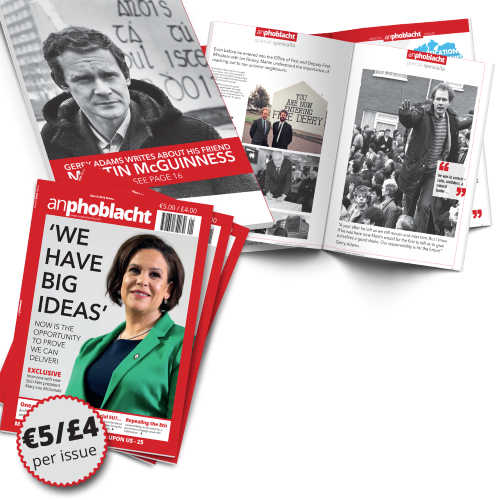 AN PHOBLACHT MAGAZINE:
The first edition of this new magazine will feature a 10 page special on the life and legacy of our leader Martin McGuinness to mark the first anniversary of his untimely passing.
It will include a personal reminiscence by Gerry Adams and contributions from the McGuinness family.
There will also be an exclusive interview with our new Uachtarán Mary Lou McDonald.
test