14 April 2005 Edition
Exploring the Coalition option
Domhnall Ó Cobhthaigh responds to last week's article by Eoin O Broin on the possibility of an alternative government to challenge the 26-County status quo.
As always, I enjoy reading Eoin's articles and last week's was no different. In his article, he made the case for Sinn Féin to work towards building an alliance of the left within the 26 Counties as opposed to making the 'trade off between Irish unity and an Ireland of Equals' necessary to go into coalition with Fianna Fáil. We all would have to share his fears of potential pitfalls; indeed, I have argued in the past that we would be very poorly prepared for such a challenge. However, I want to challenge some of what he said and implied.
I think posing the question exclusively in terms of parliamentary representation is the main problem. In order to create a United Ireland of Equals, we need to change not just the military-political and constitutional environment but also the power relationship between the various socio-economic classes in Irish society. In both cases, this will require republicans to take the lead and act as catalysts for the growth and development of broad popular campaigns to deliver upon these objectives.
As Connolly saw clearly as early as the turn of the 20th Century, the twin goals of national liberation and socialism are intertwined. Today, not a single social, economic or environmental policy issue can be identified that cannot be fed into the demand for Irish unity. Equally, the potential of all-Ireland political structures offers an architecture that affords the potential mechanism for the affirmation of social and economic rights.
It is this reality that provides a strategic framework within which our engagement with parliamentary structures must be assessed. Our engagement in this, as with all other sites of struggle, must seek as a primary objective to advance the creation of just such popular, progressive campaigns. It means that instead of adopting an idealised, exclusively policy-based approach to assessing potential strategies, we need to see their wider impact on social structures in Ireland.
So could a coalition ever be justified on such grounds? Surprisingly, I think that it could.
I believe that a coalition could, and only just could, be the best way to advance our struggle on both fronts. And that's even a coalition with Fianna Fáil. What really matters is just what we manage to extract from them in return for our support. In the end, it comes down to the concrete analysis of concrete circumstance.
Let me take some examples before my left-wing friends completely stop reading this piece. Take participatory budgeting for a start. If we just got this into a Programme for Government what would its impact be? Participatory budgeting is where the social partners - trade unions, business interests, community/voluntary organisations and agricultural representative groups — come together with government to agree not just the national pay deal but the spending in each department. Now some may say 'class collaborationist' or the like, but if this was implemented with gusto, it would constitute a fundamental change in the basis of power in the 26 Counties. Who knows where it could end?
Of even greater interest to many republicans would be the potential to advance ever speedier all-Ireland integration and even push the adoption of social and economic planning on an all-Ireland scale under the framework afforded by the Common Chapter. I'll not dwell on these, as I'm sure many republicans will understand the importance of these for national liberation objectives, but let's just think a second about the implications of government-sponsored planning for the achievement of socialist objectives.
What about our price for coalition, including the adoption of an All-Ireland Charter of Fundamental Rights as per the Good Friday Agreement? Sinn Féin has long called for these to include social and economic rights, such as the right to a job. All we have to do is look at how these rights could be enforced on government Ministers to see the potential for creating the necessary social dynamic towards achieving equality.
Similar arguments can be raised for the strategic importance of an All-Ireland Consultative Civic Forum. There are a lot of well-placed strategic demands well away from the day-to-day work of making their system work which we could lay at the foot of potential coalition partners that would create a wider social dynamic for change.
Now, many will say that these won't be delivered. Many more will say that these won't be implemented as we would like. Of course, these positions are most likely correct. Indeed, my consideration of the possibility of support for a coalition is conditional on both the adoption and full implementation of such fundamental demands.
Moreover, I think that this strategic framework of viewing potential parliamentary coalitions points to the serious limitations of positions in favour of Sinn Féin supporting a minority administration, as opposed to going the whole hog and working in them. Even if we obtained the inclusion of such policies as have been discussed, without republican Ministers involved in their implementation their worth would be insignificant in the broader scale of things. Just look at the miserly implementation of the Common Chapter commitments to date.
To those who feel that Fianna Fáil would never concede such strategic demands, I would say two things. First, no political party is a monolith: Fianna Fáil is factional, racked with internal contradictions and opportunistic. And, second, they have a commitment to all these things, on paper already — through the social partnership agreements and their purported support for the Good Friday Agreement.
There can be no idealised rules to strategy in my view. Nothing is always wrong. Every decision must be made from the perspective of what is current and what are the trends. We must remain focused on the social implications of strategic decisions rather than confine ourselves to 'surface only' analysis on a policy basis alone.
Republicans need to act as the catalyst for changing the power relationships in Irish society. We cannot legislate an Ireland of Equals into existence, even if we were in a parliamentary majority ourselves. The people, in particular the disadvantaged and the working class, must build the Ireland of Equals. Our role today is to awaken that demand, flesh out its possibility and use our political strength to lead the struggle.
An Phoblacht Magazine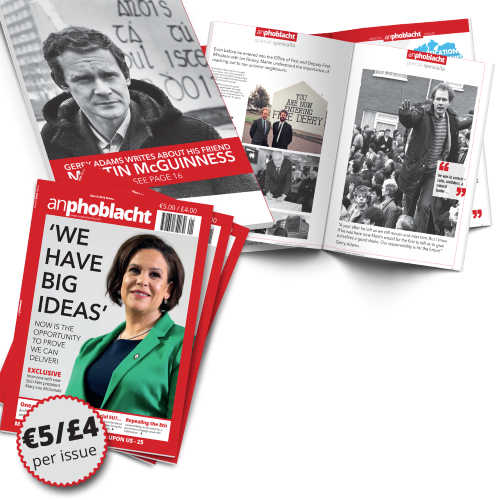 AN PHOBLACHT MAGAZINE:
The first edition of this new magazine will feature a 10 page special on the life and legacy of our leader Martin McGuinness to mark the first anniversary of his untimely passing.
It will include a personal reminiscence by Gerry Adams and contributions from the McGuinness family.
There will also be an exclusive interview with our new Uachtarán Mary Lou McDonald.
test