7 April 2005 Edition
Arrests made 30 years after sectarian killing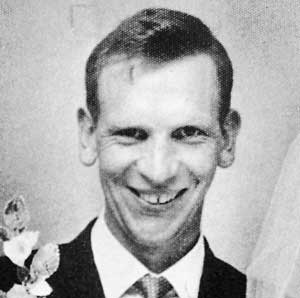 Four men have been arrested, among them a number of ex-British soldiers, and are being questioned at a County Antrim PSNI Barracks in connection with the 1974 killing of Independent Nationalist Councillor Patsy Kelly.
The four men, two from Enniskillen, one from Derry and a fourth from Kelly's home village of Trillick, County Tyrone, were arrested on Tuesday 5 April.
The arrests are the first since the Omagh councillor was abducted and killed in 1974.
Kelly went missing on the way home from work at the Corner bar in Trillick on 24 July 1974. His white Mazda car was later found burnt out.
Bloodstains, shirt buttons and cartridge cases were found on the Badony Road about two miles from the County Tyrone village, where he is believed to have been abducted by his killers.
Fishermen found Kelly's body ten miles away in Lough Eyes near Lisbellaw in County Fermanagh, three weeks later.
Kelly had been shot four times and his killers had used nylon rope to tie two 56-pound weights to his body before dumping it in the lough.
Although claimed by the UDA, many nationalists believed members of the Ulster Defence Regiment had been involved in the killing.
In January 1999, the Kelly family said they had been told that former UDR member David Jordan had broken down in a public house and confessed to involvement in the killing and had named other members of the UDR as having been involved.
Jordan died in 2001 and there have been calls for his body to be exhumed for postmortem because he died in suspicious circumstances.
The RUC were accused of not properly investigating the killing of Patsy Kelly and of colluding with the UDR in order to protect his killers.
The Kelly family's solicitor, Pat Fahy, said fingerprints at the scene had never been checked and that the RUC did not investigate footprints found at the time which were said to match those of British Army issue boots.
The Kelly family were notified of the arrests through their solicitor.