31 March 2005 Edition
Whitewell parade attacked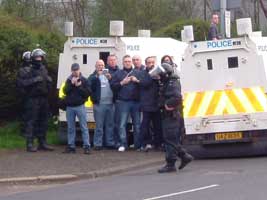 As the annual Greencastle Easter Parade arrived at the junction of the Whitewell and Shore Roads on Easter Saturday 26 March, gangs of loylaist thugs pelted marchers with bricks, bottles, full cans of beer as well as bottles of beer.
Despite a heavy presence of PSNI in riot gear, the loyalists, clearly drunk, as many of them had spent the afternoon in pubs watching the Six-County soccer team being beaten by England, continued their attack for ten minutes before the PSNI confronted them.
Indeed, as the missile throwing continued, the PSNI riot squads, batons drawn, faced the republican stewards, who tried to ensure the republican marchers continued on their parade and didn't react to the loyalist provocation.
Among the loyalist crowd was one of the UDA's most senior commanders in North Belfast, John Bunting, who has been photographed leading loyalist hangers on up the Crumlin Road during Orange Parades at Ardoyne over the past two years.
Also present photographing republican marchers was Mark Coulter, who acted as spokesperson for the loyalist residents of Glenbryn during the Holy Cross protests in 2001.
No one was injured in the attack.
In the run up to the parade, loyalist spokesperson John Montgomery released statements saying the march had the potential for trouble despite the fact that the route stays within the Whitewell area before making its way to Bawnmore.