31 March 2005 Edition
Dublin hosts packed Easter week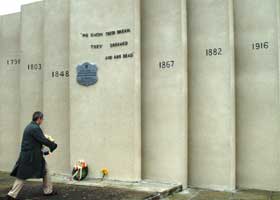 Up to 2,000 people took part in the main Dublin commemoration. In a break from tradition, a wreath was laid at the Republican Plot in Glasnevin Cemetery on Sunday morning and the main parade marched, not to the cemetery, but from the Garden of remembrance to the GPO.
Chair of proceedings was Councillor Larry O'Toole, who introduced speakers, singers and musicians at both the Garden and the GPO. The main speaker was the party's Chief Negotiator, Martin McGuinness (see Page 10 for his remarks).
On Saturday, a wreath-laying ceremony took place at Arbour Hill Cemetery, the final resting place of the executed leaders of the Rising. The Ceremony were chaired by Fingal Councillor Felix Gallagher and the address was delivered by former H-Block Hunger Striker Bernard Fox.
A ceremony commemorating the importation of weapons for use in the Rising aboard the Asgard, owned and skippered by Erskine Childers, took place at Howth on Saturday afternoon. Arthur Morgan was the main speaker.
Southside
On the southside of the city commemorative events were held at Markievicz Park, Ballyfermot and at Eamon Ceannt Park, Crumlin.
Christy Burke, Shane Mac Thomáis and Aengus Ó Snodaigh at the relaunch of Down Dublin Streets
The annual Easter Monday commemoration in Deansgrange rounded off a packed week of events in Dublin that included a historic walking tour on Good Friday hosted by Shane Mac Thomáis, the re-launch of Éámonn Mac Thomáis's classic book, Down Dublin Streets, a showing of the Céad Bliain National Exhibition, a public debate, a film night which featured a showing of The Dawn, a five-a-side soccer tournament in Crumlin and a dinner dance.
• Howth
• Louth TD Arthur Morgan speaks at the annual Howth commemoration in Dublin. Over 100 people turned out for the event. Ard Chomhairle member Michéal Mac Donnacha told the history of the arms landing, and was followed by Dublin Councillor Larry O'Toole, who congratulated local republicans for growing support in the Howth area.
• Ballyfermot
• Members of the Doyle Halpin school of dancing from Cherry Orchard at the Ballyfermot Easter commemoration
• Glasnevin
Ceremonies commemorating the 1916 Rising took place at various locations in Dublin over the Easter weekend.
Shane Mac Thomáis entertains crowds at the now annual Good Friday historical walking tour, that takes place in Dublin