23 March 2005 Edition
Children attacked by loyalist gangs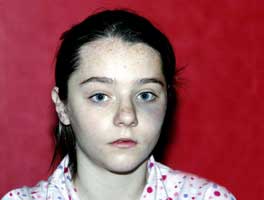 Two schoolchildren are recovering after being attacked in North Belfast in two separate sectarian attacks over the weekend.
In the first attack, on Friday 18 March, a 14-year-old schoolboy was attacked by four loyalists as he walked towards his friend's house on Alliance Avenue, Ardoyne, at around 9pm.
The loyalists, men in their twenties, jumped from a car and began punching the boy about the head.
According to Sinn Féin Councillor Margaret McClenaghan the boy would have suffered more serious injuries only for the intervention of a local man.
The Sinn Féin politician says the man challenged the loyalists, who fled in a white car and made their escape along Alliance Avenue towards the loyalist end of the Deerpark Road.
The teenager was taken to the Mater Hospital were he received treatment for a chipped jawbone.
Second attack
In the second attack, 12-year-old Megan Brown was attacked by up to four loyalists as she made her way to her Whitewell Road home at around 5pm on Sunday 20 March.
The girl was crossing the Arthur Bridge from the nationalist Longlands estate when she was accosted by the gang, mainly female, who hit her across the face and neck before making their escape towards the loyalist White City estate. One man was later arrested.
Both victims were left badly traumatised by the attacks.
Speaking to An Phoblacht, Margaret McClenaghan said loyalists were attempting to raise sectarian tensions in the area coming up to the loyalist marching season.