16 March 2005 Edition
The 5th Column
Pop idol
GERRY ADAMS'S US tour reviews by some writers claim that he in danger of being seen by the White House as "a Yasser Arafat figure". Writing on Slate Magazine's website, Scott MacMillan is among the critics but he sees things more colourfully and says that stories of Gerry's political demise are premature.
"Imagining a Sinn Féin without Gerry Adams would be a bit like Blondie reforming without Debbie Harry."
Altogether now...
Oh, Gerry, doo-be-do, we're in love with you,
Gerry, doo-be-do, we're in love with you,
Gerry, doo-be-do, we're in love with you.
Just kidding
ONE of the so-called 'Bolton Wanderers', Johnny Adair's UFF camp followers who fled to the Lancashire town during the Belfast loyalist feud, was the target of a hoax bomb attack — by herself.
Catherine Kidd was one of 30 loyalists who joined Johnny's wife, Gina, in Bolton. Last November, Kidd strapped fireworks to electric wiring and a battery and left it in a bag outside her private-rented house. The Bolton Wanderers had been targets of the mainstream UDA/UFF and the hoax bomb find sparked a full-scale security alert, complete with flashing blue lights, sirens, sealed-off streets, bomb experts and a controlled explosion.
Bolton Crown Court heard last week that Kidd had hoped that the stunt would convince Bolton Council that she was in danger from "local yobs" and she would be rehoused by the local authority.
Kidd pleaded guilty to placing the device and wasting police time. The case has been adjourned for psychiatric reports.
Star struck
INTERESTING TAKE by The Star newspaper on the recent visit by Johnny Adair to Manchester United hard man Roy Keane's local pub near Manchester and Bolton.
Noting that it was probably just as well that Keano didn't come across the UFF gangster in the Cheshire Midland pub, The Star explained part of the potentially violent mix: "The shaven-headed and tattooed Adair played an active part in several feuds amongst the various loyalist paramilitary groups."
And The Star could have added that Adair's UFF ran a sectarian murder campaign under the direction of Brian Nelson, aided, abetted and controlled by the highest-ranking British Army Intelligence officers still-serving at the top of Tony Blair's and Paul Murphy's armed forces.
Tax bands
TAX COLLECTORS in a southern Indian city are literally beating the drum to make tax dodgers pay up.
Authorities in the city of Rajahmundry, in Andhra Pradesh state, are sending a troupe of ten drummers around to create a noise outside businesses and homes until evaders cough up.
Officials say they drummed up 200,000 rupees (€3,434) on the first day from people who'd rather not face the music.
Maybe the Revenue Commissioners could fine tune the idea and send the boys in the band round to a few Fianna Fáil bigwigs' businesses. It would save on some of those tribunals.
Balancing act
ISN'T IT interesting that RTÉ reporters and other hacks can get away with claiming that because individual members of the IRA may have been responsible for the death of Robert McCartney, then the organisation is responsible?
If there are any journalistic standards of balance and accuracy, then surely the same logic should be applied to other individuals accused of wrongdoing. Do journos blame the whole Fianna Fáil organisation collectively for the crimes of Ray Burke and Liam Lawlor? Or Prince Charles, Tony Blair and the Army Board for the actions of individual members of the British Army, the UDR/RIR and the SAS?
Send your answers on a postcard to RTÉ, Dublin 4, or Sir Anthony O'Reilly, Irish Independent Newspapers, c/o Buckingham Palace.
The law is an ass
A DONKEY has been released after being detained for three days as a suspect in a road traffic accident in Colombia.
Police held on to Pacho after a motorcyclist crashed into him in the northeastern town of Arauca on Sunday.
Local police chief Diana Rojas justified the unusual arrest, saying "a man was injured". Pacho's owner, Nelson Gonzalez, insisted that his donkey, who received injuries to his head and right hoof, was not to blame.
Since his brush with the law, Pacho has become a Colombian television star.
Gonzalez said he went to visit Pacho every day at the police pound and complained that he was not being fed sufficiently.
"This is a violation of the animal's integrity," said Alvaro Merchan, a local human rights lawyer who objected to Pacho's conditions of detention. "In this case, neither the law nor the proper conditions of detention were respected," he told the French news agency, AFP.
Colombian police released Pacho after investigators decided his detention served no further purpose.
To add insult to his donkey's injuries, Gonzalez was required to pay about 9,000 pesos ($4) to cover the costs at the pound.
An Phoblacht Magazine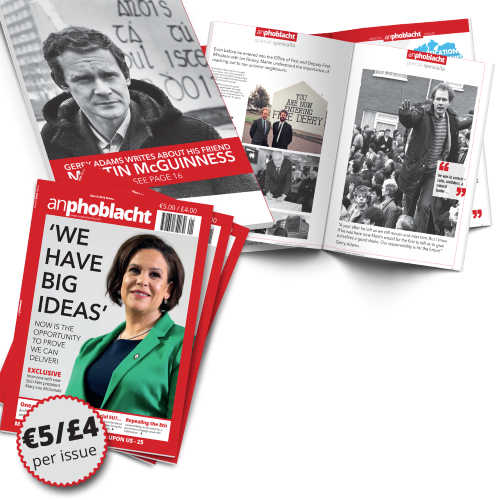 AN PHOBLACHT MAGAZINE:
The first edition of this new magazine will feature a 10 page special on the life and legacy of our leader Martin McGuinness to mark the first anniversary of his untimely passing.
It will include a personal reminiscence by Gerry Adams and contributions from the McGuinness family.
There will also be an exclusive interview with our new Uachtarán Mary Lou McDonald.
test