16 March 2005 Edition
Cover-up? Ask the experts
In his opening address to the Sinn Féin Ard Fheis this year, Martin McGuinness dealt with allegations that the IRA was attempting to cover up the circumstances surrounding Robert McCartney's death.
The IRA responded with speed to the incident, he said, and asked for that to be contrasted with the years and decades of cover-up by the British Government around collusion, shoot-to-kill, torture, Bloody Sunday, the Dublin and Monaghan bombings and so on.
The family of Rosemary Nelson can tell you all about the British Government's policy of collusion and cover-up.
Exactly six years ago, on Monday 15 March 1999, the 40-year-old human rights solicitor was murdered when her car exploded as she drove away from her Lurgan home. She left behind a devastated family and a community in mourning.
Nobody has been charged with, still less convicted of, her murder.
In his Collusion Inquiry Report, published in April 2004, Judge Peter Cory recommended the establishment of an independent public inquiry into allegations of collusion in her death.
Now, despite the best efforts of the British government along the way to prevent it, that inquiry is about to go ahead.
Months before she died, Rosemary had given evidence to the US House International Relations Committee on Human Rights in Northern Ireland. On Wednesday 16 March, Geraldine Finucane will give evidence to that same committee on the ongoing attempts by the British government to block the truth surrounding the murder of her husband, Pat Finucane, from emerging.
Nelson's inquiry in April, and the Finucane inquiry, which is yet to be set, will both be impeded by the latest cover-up trick from the British Government — the Inquiries Bill, introduced in November 2004. The Bill gives British ministers the power to order inquiries to hear evidence in private and to bar the production of evidence altogether to protect 'British national security'.
The Bloody Sunday families had to wait 30 years for a public inquiry into the deaths of their loved ones.
This week, Lord Saville, who heads the Bloody Sunday Inquiry, slammed the Inquiries Bill, saying that he would "not be prepared to be a member of an inquiry, if at my back was a minister with power to exclude the public or to decide that evidence or documents should not be disclosed to the public".
The Inquiries Bill may yet postpone the justice the Nelsons and Finucanes deserve.
When it comes to cover-up, nobody does it better than the British Government.
An Phoblacht Magazine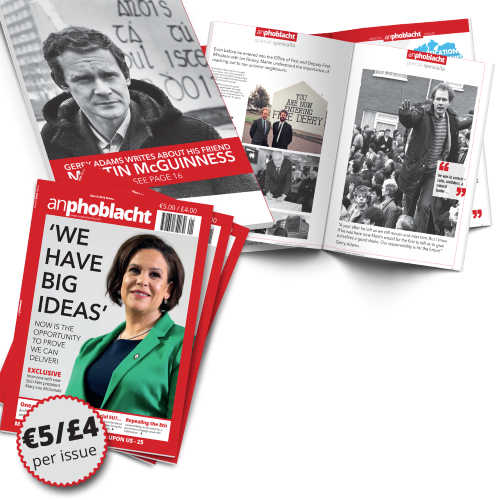 AN PHOBLACHT MAGAZINE:
The first edition of this new magazine will feature a 10 page special on the life and legacy of our leader Martin McGuinness to mark the first anniversary of his untimely passing.
It will include a personal reminiscence by Gerry Adams and contributions from the McGuinness family.
There will also be an exclusive interview with our new Uachtarán Mary Lou McDonald.
test