10 March 2005 Edition
We need cutting edge legislation to fight discrimination
BY FERN LANE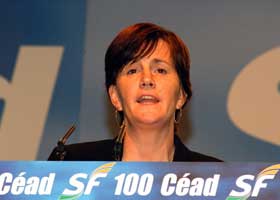 In the wide-ranging Equality and Human Rights section of the Clár, delegates debated more than 30 motions covering such diverse subjects as the establishment of the Northern Human Rights Commission; racism and sectarianism, including anti-Traveller racism; equality legislation; parental rights; terminology; ageism; and the rights of women and same sex couples.
Opening the debate on behalf of the Ard Chomhairle, Caitríona Ruane said there was a myth being perpetuated by certain elements within the political establishment that "the Six Counties is at the cutting edge of fair employment legislation and that the British Government has been innovative in the field of equality".
The reality, she said, was somewhat different. "Every single piece of equality and human rights legislation had to be fought for, not only in the face of indifference, intransigence and foot dragging, but also active obstructions".
"Some refuse to acknowledge that structural discrimination ever existed and others are prepared to grudgingly concede that 'isolated incidents' of discrimination and human rights abuses 'may' have occurred in the past."
Even now, she said, many unionists still argue that injustice and inequality were not really problems at all, but were merely "a figment of the Catholic imagination that was mired in victimhood and encouraged by a republican conspiracy designed to undermine the state by fuelling nationalist anger".
She told the conference that she had recently challenged the former Junior Minister for Equality, UUP member Dermott Nesbitt, to a debate on the issue.
"During the course of the debate I plied him with statistics which clearly showed that discrimination is alive and well in the North of Ireland," she said. "For example, Catholic males are still twice as likely to be unemployed as Protestant men, there has been a 100% increase in applications to the Fair Employment Tribunal. The Civil Service remains a non-representative bastion of unionist and male privilege, with less than one quarter of senior civil servants being Catholic and only 10% women. Given access to majority positions, unionists still exclude others from positions of power".
Nesbitt's response had been to insist that there was no discrimination, only disadvantage. "He berated me for 'bleating' — and that was the word he used — on about discrimination," she said. "Towards the end of the debate he began on the topic of Catholics having bigger families. Dermott, like many of his white South African counterparts, is using age-old, racist stereotypes to justify his resistance to equality.
"Structural and institutional racism is alive and well; against Catholics and nationalists, against republicans, against Travellers, against ethnic minorities, women, the gay and lesbian community and working-class families. Indeed, sectarianism, like racism and sexism, has at its heart issues of power relationships. Racism is prejudice plus power."
The human rights and equality agenda, she argued, "needs to be at the heart of social and political change in Ireland. We need real, cutting edge legislation and tools to fight discrimination. We need an effective and accountable human rights commission and we need to send a clear message to all the opponents of equality and human rights in Ireland. They may call it bleating; we call it standing up for our rights and we are going to continue to do that."
Brendan Ó Caoláin, speaking on two motions regarding the immense difficulties and discrimination faced by the Irish Traveller community, told the conference that the Economic and Social Research Institute concluded that the circumstances of Irish Travelling people are intolerable. "No humane or decent society should permit this to exist," he said.
Kathy Stanton, MLA for North Belfast, spoke on the issue of violence against women, telling the conference that the problem was endemic and that, according to Amnesty International, it is the most widespread human rights abuse in the world.
She provided the Ard Fheis with a raft of statistics which illustrated the horrifying extent of the problem of gender-based violence, including in Ireland. For example, one third of women have been beaten, coerced into sex or otherwise abused during their lifetime. In the Six Counties in the year 2002-'03, 7,961 women were assaulted in domestic violence incidence. On average, a woman will be assaulted 35 times by her partner before reporting the violence as a crime. More than half the women living in refuges in the Six Counties were subjected to violent attack during pregnancy and more than 10% lost their baby as a result.
In the 26 Counties, she said, the Irish government had refused to provide €7 million to front line services dealing with women who had been the victims of violence, but had at the same time allocated €60 million to their PR budget. "This is an outrage," she said, "Violence against women is never legal, normal or acceptable and should never be tolerated.
"We need to call for financial support for women's organisations and other support groups to protect women and their children who live in a violent environment."