10 March 2005 Edition
Greetings from US labour leader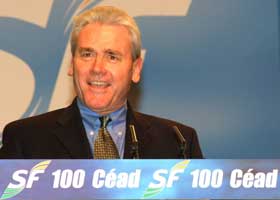 Terry O'Sullivan is President of the Laborers' International Union in the United States, representing over 800,000 members. The Irish American trade unionist was a guest speaker at this year's Ard Fheis.
O'Sullivan expressed his support and commitment to the Irish people and to "our cause and our party". He articulated words of praise and admiration for Sinn Féin President Gerry Adams: "I have been inspired by his courage, his conviction and his commitment to justice and equality and a united Ireland," he said. "He is not only one of the greatest leaders, but one of the most decent human beings I have ever met. He is a credit to this party and a credit to this country."
O'Sullivan referred to the decision by Washington not to invite any Irish politician to the St Patrick's celebration in the White House this year. "I cannot talk for the president of the US, but Gerry Adams is welcome any day to my house," he said, to thunderous applause.
O'Sullivan also referred to the 100th anniversary of Sinn Féin, a party "born out of strive and struggle, by courageous men and women who gathered to fight against abuse, torture, discrimination and the exploitation of the Irish people.
"They founded Sinn Féin on the principles of equality, justice and a united Ireland, individuals who were willing to give their lives in the cause of freedom. The heroes of our past we remember. It is their spirit, their courage, their conviction and their determination that we honour here today. It is in their memory that we re-dedicate ourselves today to the cause of peace."
O'Sullivan reiterated the support for Sinn Féin's work from the Labour Movement and the Friends of Sinn Féin in the United States.