10 March 2005 Edition
Answering back on the Hunger Strike
In last week's issue, Bik McFarlane, OC of the republican prisoners in the H-Blocks during the 1981 Hunger Strike, rubbished claims that the IRA Army Council rejected an offer made by the British that could have brought the protest to an end in July, preventing the deaths of six men. The claims had been made by former H-Block prisoner Richard O'Rawe, (right) in a book published through the British Sunday Times.
This week, we publish some further contributions we have received on the matter.
Laurence McKeown writes:
Dear Richard,
There are individuals in history who we regard as great people; moments in history we look back at in wonder.
In our own lives too, there are times that we like to relive and feel once more that sense of achievement, of success, of joy, comradeship or love.
There is a danger, though, that as the years pass, as the hair thins and the wrinkles appear, that we look back through rose-tinted glasses. We start to see things a little differently. Our role in events becomes somehow inflated.
We realise, for the first time, the significance of our own input into events. We recall the profound comments we made at critical moments of debate; the input we had into crucial decisions; even the dazzling pass on the football field, without which the star striker could not have scored and thereby won the day. And we wonder why history has not recorded our part in all of this.
The Sunday Times, that organ of Irish republicanism, revealed to me last week your historic role in events, Richard. Strangely, there was nothing new to me regarding what was on offer from the Brits back in 1981. Whether it was the 'Mountain Climber' or the Irish Commission for Justice and Peace, we wanted definite confirmation, not vague promises of 'regime change'. We had all of that in December 1980.
What was news to me was that you were going to call off the Hunger Strike. Strange that. You see I don't recall you ever being on the Hunger Strike. Were you in the cell at the bottom of the ward? And when were you going to tell the rest of us about your decision?
The death of our ten comrades did not get us our demands. It took many more years, much more suffering and even death to achieve them. But we did it.
You weren't with us Richard. In fact, if I recall, you left us shortly after writing your last press release about their sacrifice.
I didn't see you leave Richard. I was blind at the time. But I was one of the lucky ones. I survived.
Maybe you left us to carry out courageous feats elsewhere? Maybe you'll tell us more about those in future publications. Because for me, actions speak louder than words. Always.
There are some great individuals in history, Richard. And then there are those who would love to be great. What is precious is knowing the difference.
• Laurence McKeown was on hunger strike in 1981 for 70 days.
They killed our children
A Chairde,
As someone who took to the streets before, during and after the Hunger Strikes, I would like to comment on the assertion made by Richard O'Rawe that the IRA leadership controlled the Hunger Strikes and allowed the last six of the Hunger Strikers to die.
I was at the time a member of 'Youth Against Oppression', which was set up in response to the prison campaign and was made up of young people from all over the Derry area, who always had one representative attend all of the meetings held by the local Relatives Action Committee.
At these meetings, young people would sometimes get carried away with the emotions of the Hunger Strike and demand more radical responses to deal with what was happening to our prisoners. The response from the Committee was always one that stands out in my mind to this day: "The prisoners are the most important people in this campaign, and it is their request that nothing is done on the outside which will detract from their campaign. They have asked that young people on the ground be allowed to campaign on their behalf but that they should also be disciplined in their responses to news coming from the prisons."
We were also told that we should always take our lead from the Relatives Action Committee, who represented the prisoners on the outside.
So what does that tell you, Richard? I myself, in hindsight, have also interpreted what the prisoners were saying was that they did not want any young people hurt on the outside.
A lot of young people gave their lives during the Hunger Strikes at the hands of the British Army and RUC child killers — Gary English, Jim Browne, Paul Whitters to name but a few, killed in our own city.
I was being held in Strand Road Interrogation Centre on the day Paul Whitters was seriously injured (15 April 1981) and grown men, "policemen" (thats what they called themselves) were laughing and joking about a 15-year-old child lying defenceless in the street after being hit at point-blank range (five feet) by a plastic bullet. Paul Whitters died on 25 April 1981, no doubt a few more laughs and cheers went up in Strand Road Barracks.
These incidents happened at the start of the Hunger Strikes and carried on right through, with many more young people murdered by British Forces and so-called policemen.
My point, Richard, is this: the British Government's policy in Ireland then was to break us at any price, the lives of children on our streets did not matter to them, so what makes you think that they had principles when it came to the prisoners without re-assurance being guaranteed.
Put British rule on the rack Richard or fall in behind all of the other begrudgerers from the SDLP and Irish establishment in their rewriting of Irish history. These people stood idly by and allowed Irish people to die at the hands of the Brits; now you have let them off the hook.
With respect, Mr O'Rawe, I will not be buying your revisionist paperback.
Cathal Beag,
Derry City.
Betraying the Hunger Strikers and their families
A Chairde,
I read with deep anger the extract from Richard O'Rawe's book, Blanketmen, where he stated that the IRA Army Council acted in a inexcusable manner by using the last six Hunger Strikers as cannon fodder for election purposes by blocking a deal that would have ended the Hunger Strike and saved their lives.
As a former Blanketman who joined the protest the same month as Kieran Nugent, I can speak with some authority on the protest.
So I ask myself one question; Why is O'Rawe peddling this line on the 24th anniversary of the Hunger Strike, putting the families through this unneeded turmoil and anguish — especially now when the Irish Government, the SDLP and media are trying to reinstigate the criminalisation policy for electoral purposes?
O'Rawe was only a "press release officer" and would therefore not have been privy, any more than the rest of the blanketmen, nor had any more say than us if a deal was acceptable or not. I can only assume that those years of solitary confinement have affected his brain and memory to the extent he gives himself a role and importance he never had. Not even Judas could live with his betrayal of Jesus.
O'Rawe has no credibility. Does anyone honestly think that a man that was prepared to swallow his convictions and put on the prison uniform and criminalise himself while his comrades lay dying would be negotiating for us? To quote his book: "I made it clear to dollhead, the maggots went or I did."
Martin Hurson was never in O'Rawe's wing as he claimed in his book. Martin, from the day and hour he was sentenced until a few weeks before his death, was always on in my wing in H-Block 5 along with Francis Hughes and Raymond McCreesh, who was next door to me. This was another manufactured lie by O'Rawe.
I stated I could speak with some authority on the Hunger Strike and the facts are these. On the night the first Hunger Strike ended, Bobby Sands as OC "officer commanding" of republican prisoners was taken from his cell and escorted around H-Blocks 3, 4 and 5 at the request of Fr Murphy, the then prison chaplain, a chief screw and prison governor, to inform us the strike had ended. This was only a cover for Bobby, as we had our own line of communication within the Blocks. It was Bobby's way of speaking to Francis Hughes, Ray McCreesh and Patsy O'Hara. The only cells Bobby visited in H-Block 5 that night were Raymond's and Francis', who were cell mates, and Patsy O'Hara's. The plans were laid out that night by Bobby, that failure by the Brits to implement the deal offered that night to end the Hunger Strike would commence in a new one by these four men. Francis Hughes himself, who was a personal friend of mine, later confirmed this to me. They planned the Hunger Strike that night, not the IRA Army Council.
When the new Hunger Strike was announced, Bobby as OC laid ground rules which we were all made aware of and supported inside the prison.
No 1. He appointed Bik McFarland as OC of republican prisoners, extracting against Bik's own personal wishes that at no time was he to go on hunger strike but to remain in command until our five demands were met and to liaise with the Hunger Strikers, which he faithfully did.
No 2. He ordered that no one could order the men off hunger strike or agree without their input and consent, only the Hunger Strikers could take themselves off.
Before embarking on hunger strike, Bobby and Francis were sent written commands by the IRA, the written command for Francis was passed to me to pass in through a gap in the heating pipes that ran along the back wall of our cells, to give to Francis. I was unable to do this, as the gap was too tight, so I was given permission to open Francis' command and to read it to him through the gap in the pipes, with the instruction to burn it afterwards and to keep the contents secret.
I hope the IRA will forgive me now for disclosing the contents of their command but I feel I owe it to the Hunger Strikers' families and the Blanket Men to nail O'Rawe's version on the head.
The contents were as follows: the IRA leadership did not agree with the hunger strike so soon after the first one, as they felt there would be apathy among grassroot support on the ground outside, that Thatcher's government would dig their heels in and allow Volunteers to die, and that this could be detrimental to the future of the armed struggle and they therefore advised Francis not to go on hunger strike.
That is fact and proof if needed that at all times the Hunger Strikers controlled their destiny, not the IRA, as O'Rawe claims. The very fact these men broke Army orders and embarked on hunger strike showed how courageous and farsighted they were in their thinking that no one must be allowed to criminalise our struggle for justice, peace, equality and freedom. Like their comrades in the past right back to the Fenians, who gave their lives rather than criminalise the struggle, we must honour their memory by ensuring that O'Rawe, the SDLP, the Irish Government and the media do not succeed either.
The responsibility of the deaths of the Hunger Strikers lies with no one but the British Government, who created the conditions to allow it to happen.
Finally, O'Rawe, 'shame on you' for your inexcusable behaviour in betraying the Hunger Strikers and their families.
Paul McGlinchey,
County Antrim.
An Phoblacht Magazine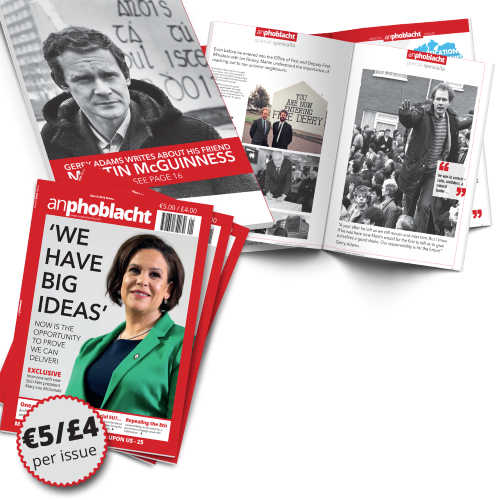 AN PHOBLACHT MAGAZINE:
The first edition of this new magazine will feature a 10 page special on the life and legacy of our leader Martin McGuinness to mark the first anniversary of his untimely passing.
It will include a personal reminiscence by Gerry Adams and contributions from the McGuinness family.
There will also be an exclusive interview with our new Uachtarán Mary Lou McDonald.
test