3 March 2005 Edition
McBride family vow to fight on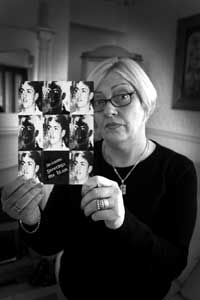 Jean McBride, mother of Belfast teenager Peter McBride, who was shot dead 14 years ago by British soldiers, has pledged to continue her fight to have her son's killers thrown out of the British Army.
Jean McBride said the recent prosecution and dismissal of three British soldiers in relation to abuses in Iraqi contrast with the treatment of her son's killers.
"They were dismissed within hours of sentencing, since according to British General Mike Jackson, they had brought shame on the British Army," she said. "Our family welcomes the fact these soldiers have been thrown out but the British soldiers who murdered my son have been allowed to remain in the British Army."
"According to the British government the two soldiers who shot my son in the back did not bring disgrace on the British Army. Maybe British Defence Minister Geoff Hoon can explain why the humiliation of prisoners warrants immediate dismissal form the British armed forces, while the murder of a unarmed 18-year-old boy does not?
The McBride family are awaiting the outcome of their latest legal battle to force both Scots Guards out of the British Army.