17 February 2005 Edition
Complaints of PSNI raids to be lodged with Taoiseach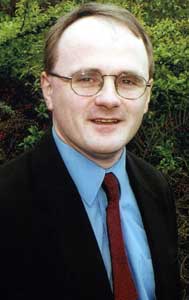 Last week's highly-publicised crown forces' raid on the homes and business premises of Liam and Michael Donnelly near Beragh in County Tyrone, just 24 hours before the latest IMC report was due for release, has been described by Sinn Féin MLA for West Tyrone, Barry McElduff, as "a political charade".
Up to 50 PSNI and British Army vehicles, with helicopter back-up, swooped on the homes and business premises of the Donnelly brothers on Wednesday 9 February, and began a full scale search, using warrants relating to December's raid on the Northern Bank in Belfast.
The raid, which began on Wednesday, continued through Thursday 10 February and only ended on Friday, saw the crown forces deploy digging equipment, specialised divers and sophisticated sensor equipment.
As well as searching the Donnelly family homes, the PSNI excavated waste ground and divers searched a nearby duck pond.
Nobody was arrested during the massive operation, which resulted in one home being left without heat or water.
Michael Donnelly's son, Damien, said PSNI detectives arrived with search warrants at around 7.20am, claiming the searches were in relation to bank notes stolen during the robbery at the Northern Bank in Belfast on December 20.
"I'm very angry that we have been targeted and to relate my business to the bank robbery is utterly wrong. The PSNI appeared to have a number of teams for specific searches but there was no arrests; in fact, there wasn't even any talk of arrests".
Donnelly said that the PSNI have "wantonly damaged" his character and his family's and "the whole thing is just total nonsense".
Adding his voice to the concerns raised by the Donnelly family, Sinn Féin West Tyrone MLA Barry McElduff said there was outrage in the local community at the way the Donnelly family was treated.
"This is plainly a political charade against a well known Tyrone family and the timing of it, in conjunction with the delivery of the IMC's report, speaks volumes," he said. "Unfortunately, with these political games, it is ordinary decent families who are suffering, but there is nothing new in that."
McElduff said that he and the party's West Tyrone MP Pat Doherty would be raising complaints about the raids with the Taoiseach's office.