6 February 2012
Fógraí Bháis - Harry Thompson, Brigid Hannon and Géry Lawless
Harry Thompson, Belfast
BY GERRY ADAMS TD, President of Sinn Féin
HARRY THOMPSON died at home on Sunday 29 January surrounded by his family and friends.
I have known wee Harry for over 40 years. We were always close.
Harry was a republican activist for most of his adult life and he was honoured at last year's Le Chéile, which recognises those who have given special service to the republican cause.
He was born in a very proud son of Ballymacarrett in east Belfast in 1944. In 1962, as the 1950s campaign was coming to an end, Harry joined the republican struggle. He was recruited into the IRA by Liam Mulholland, who was himself a well-known and long-standing republican activist.
Harry was also active in Sinn Féin. In 1964, Sinn Fein was a banned organisation but the party stood candidates in the October Westminster general election campaign under the banner of 'Republican' in each of the 12 constituencies. Harry was active in east Belfast, where David McConnell was the candidate. They won almost 2,000 votes to add to the just over 100,000 total taken across the North.
Despite a credible 15.9% of the vote for republican candidates, the 1964 election is best remembered for Ian Paisley's threat to take the Tricolour out of the election office window in Divis Street and for the days of rioting that followed the violent removal of the national flag by the RUC.
Harry remained active throughout the 1960s. It was a turbulent time within Irish republicanism as efforts were made to learn the lessons of the failed 1950s campaign and to map a new way forward.
At the end of that decade, Harry briefly went to England. On his return in 1971, he was soon back in the thick of the struggle. In 1973, he was involved in establishing Green Cross, which over the years did amazing work in providing financial and other support for the families of political prisoners.
In 1974, he was interned and he was held in Long Kesh until December 1975, when he was among the last of the internees to be released. In June 1976, Harry married Kathleen Largey, who was the voice of The Flying Column, and one of the finest ballad singers of her generation.
Kathleen, a member of Cumann na mBan, sang patriotic songs and ballads that told the story of heroic resistance to the British military occupation in Ireland.
Her first husband, Eamonn Largey, was killed in a car accident in July 1973. He and Kathleen had two daughters. Áine was about 18 months old while Máire was six weeks.
Harry and Kathleen married shortly after she had been diagnosed with cancer. He was a devoted husband and father to the two girls and together Harry and Kathleen worked hard in support of the political prisoners. Kathleen died in February 1979.
Throughout this time Harry remained a full-time activist. He was also a small businessman working in the leisure industry.
In 1980, he moved to Galway where he stayed active in the republican struggle.
Four years later, he married Kathy Lydon, a Galway woman, and they moved back to Belfast. Harry and Kathy have five beautiful daughters over whom Harry doted: Ellen; Louise; Mairead; Niamh and Aisling.
He and Kathy were also blessed with three grandchildren - Harry Óg, Gabrielle and KC. He is also survived by his sister Lily, brothers Seamus, Tony the Master, Joe and John.
From then until now Harry has remained an active republican. He was a trusted friend. When John Hume and I started our talks in the 1980s, we used to meet regularly in Harry's home.
He has travelled with me to the USA, to meetings in Downing Street, and three years ago he was part of a Sinn Féin delegation that visited the Middle East, including Gaza.
Harry was very well-known in republican circles throughout Ireland. He was a quiet, soft-spoken, unassuming person but was fierce in his support and advocacy of the republican struggle, and totally dedicated to its successful conclusion.
On behalf of republicans everywhere I want to extend my deepest condolences to Kathy, Áine, Máire, Ellen; Louise; Mairead; Niamh and Aisling.
Go ndeanfaidh dia trocaire ar a n'anam dílis.
Brigid Hannon, Belfast
BY LIAM SHANNON
WHEN Brigid Hannon died it was the closing of the door on the life of a woman who dedicated her life to the cause of Irish freedom.
'Wee Brigid', as she was affectionately known, was born in January 1918. She was 94 when she died in Belfast City Hospital.
Brigid's family lived in Leeson Street, in the lower Falls area of Belfast, in the years leading up to partition when the six north-eastern counties fell under unionist domination.
It was the injustices of partition and the misrule which formed the cornerstone of unionist political policy that influenced Brigid's decision to enlist in the ranks of Cumann na gCailíní before progressing into Cumann na mBan.
Brigid's family wouldn't have been politically inclined but the years after partition were turbulent years and the lower Falls area saw more than its share of armed conflict.
With the outbreak of the Second World War, which opened the door for the IRA's 1940s campaign, Brigid saw action working alongside her comrades in the Army.
As with many republicans from that period, the execution of Volunteer Tom Williams had a lasting effect. Not only did the British hang the 19-year-old, they refused to hand his body over to his family to be buried with dignity, instead choosing to inter him in Crumlin Road Prison.
This vindictiveness motivated Brigid and many other veteran republicans to campaign for Tom's body to be released and given a decent burial. Their efforts were successful and, in January 2000, Tom Williams was given the republican send-off he deserved. Between 65,000 and 70,000 people travelled to Belfast for a republican ceremony to honour Tom.
While the achievement in having Tom re-interred in Belfast's Milltown Cemetery belongs to the National Graves Association, the personal commitment of people like Brigid should not be overlooked.
Nor should it be overlooked that in those fallow years for republicans, after the failures of the IRA campaigns in the 1940s and 1950s, it was people like Brigid and her generation that kept the flame alive. They were the people who stepped into the breach in 1969 to defend the nationalist population from the ferocity of the unionist pogroms.
Brigid Hannon and her contemporaries played a major role in the reorganising and rearming of the Army in 1969 and through the early 1970s.
Still active as O/C of Cumann na mBan (Brigid was the longest-serving O/C of the organisation), she worked tirelessly for the cause.
Her house in Leeson Street became a safe house for young women recruited into Cumann na mBan and even though she had a reputation as a strict disciplinarian she also had a very sympathetic and humanitarian nature which endeared her to the Volunteers she commanded.
As the prisons filled up with both female and male Volunteers, Brigid set her face towards working on prison issues.
Needless to say, the H-Block and Armagh prison struggle had a big impact on Brigid. She was to the fore at rallies and protests and never missed a chance to visit 'her girls' in Armagh. She befriended them as they befriended her.
Sadly, as well as the prisons filling up, so did the old Republican Plot.
Brigid, Jimmy Steele, Máire and Jimmy Drumm, Leo Martin (Snr) and Joe McGurk, amongst others, reinvigorated the National Graves Association and raised the money to buy the new Republican Plot. It stands as a fitting memorial to those buried there who gave their lives for Ireland.
Brigid never married so to her many nephews and nieces we offer our sympathy. To her many friends who looked after her in her last years when she fell into ill-health, especially Briege Wright, Geraldine Murphy and Brian McKee, we offer our gratitude.
Géry Lawless, London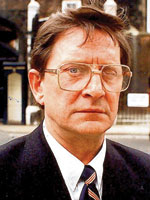 GERRY ADAMS TD has extended his sympathies and condolences to the family of Géry Lawless, who died in London on Saturday 21 January.
The Sinn Féin leader said:
"It was with great sadness that I have heard the news of the death of Géry  Lawless. On behalf of Sinn Féin, I want to extend my sincere condolences to his wife Anette, daughters Kerry and Siobhán, son Stephen, and his many friends and comrades."
Géry was interned in the 1950s and successfully challenged the Dublin Government's use of internment in support of the unionist junta at Stormont. In the 1960s and 1970s, he remained in solidarity with the republican struggle, was involved with the Civil Rights movement both in the Six Counties and in the Irish Civil Rights Solidarity Movement in Britain.
Géry Lawless was a lifelong republican, trade unionist, socialist and political activist. He was committed to justice and peace in Ireland and worked tirelessly on behalf of the Irish and the British working class.
He was prominent in many organisations against British imperialism, including the Anti-Internment League, but was also an important founding member of the Troops Out Movement and brought delegations to the North, including trades councils to see for themselves the repression that was being carried out in the name of the British people.
He was active in the Irish Workers' Group and the International Marxist Group. He also worked for the Sunday World newspaper.
Gerry Adams said:
"In his varied activism and in his journalism he reflected his passionate belief in the right of oppressed people to be free. He was a colourful character who never balked at placing himself at the coalface or at the front of a baton charge! I am not sure if this was an apocryphal story but it was one that sums up something of his character. At one Troops Out march, Géry and the other demonstrators were opposed by hundreds of National Front thugs, baying for blood. Géry said to his comrades: 'You watch the police — I'll watch the National Front.'
"His death will leave a huge gap in the lives of his family and friends and comrades but they can take comfort from knowing that in his life he helped many others and was genuinely liked and respected by friends and political opponents alike.
"Go ndeanfaidh dia trocaire ar a n'anam dílis."