17 February 2005 Edition
Process in crisis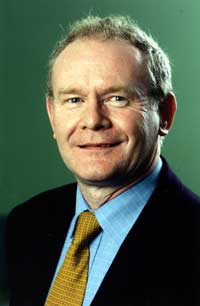 Speaking on Wednesday in London before travelling on to Oxford, where he addressed a seminar along with the DUP Deputy Leader Peter Robinson, Sinn Féin Chief Negotiator Martin McGuinness warned that the process is in deep crisis.
"I am in London today to address the issue of conflict resolution," he said. "This evening's discussion, involving the DUP deputy leader Peter Robinson, is both timely and significant. It underlines the need for inclusivity and for dialogue.
Sinn Féin President Gerry Adams, speaking in Belfast last Friday, said that he was "prepared to sit down with the Taoiseach today, tomorrow at any time to try and sort these matters out.
"It is important that when we get to that point that genuine dialogue should be conducted in an atmosphere which makes success possible. That is one of the reasons why we are so vigorous in defending ourselves from these accusations."
Adams said that on Thursday, he had asked the Irish Government to act on foot of its allegations that Martin McGuinness and he had prior knowledge of the Northern Bank robbery. "They have failed to do this. This morning, the Taoiseach studiously avoided answering the question I put to him yesterday. The fact is that he has made a claim, which he cannot corroborate or substantiate. In an Irish News interview this morning, the PSNI Chief Constable Hugh Orde was asked if the Sinn Féin leadership know about the Northern Bank robbery? His reply was that he had 'no idea'.
"So, the Taoiseach should stop making these malicious and untrue allegations.
"However, I fear his intention is to continue with this because the concentrated assault on Sinn Féin, the spurious and untrue accusation that this party sanctioned robberies, is about criminalising our party and our electorate. It's about electoralism.
"It is about preventing the development of Sinn Féin's radical political alternative to establishment politics on this island. But it seems to me that this torrent of abuse is likely to continue for a considerable time. I regret that. Not because Sinn Féin are not able to defend ourselves. We can. And we will.
"But there is ongoing damage being done to the Peace Process and the reality is that when we come to deal with all of these matters in a constructive and genuine way all of the outstanding issues will have to be resolved
"The process cannot be suspended indefinitely, as it now is. Neither can it be advanced by the methods currently employed by the governments. The priority and focus of Sinn Féin in the time ahead is clear; to prevent any further damage to the Peace Process and to oppose any possibility of a return to violence."