17 February 2005 Edition
Sinn Féin anger over IMC fine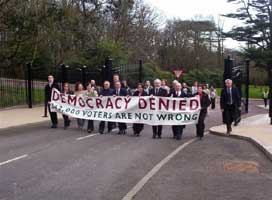 Sinn Féin's Gerry Kelly, speaking outside Belfast's High Court on Monday 14 February, slammed the court's decision to refuse the party leave for a judicial review into last year's decision by the Independent Monitoring Commission (IMC), which sanctioned the party over the alleged abduction of Belfast man Bobby Tohill from a bar in Belfast in February 2004.
The IMC accused the IRA of involvement in what become known as the 'Tohill Case' and recommended that the British Government impose financial sanctions on Sinn Féin.
The party launched its court action after British Minister Paul Murphy withdrew funding, totalling £120,000, from its Assembly party last April.
Awarding costs against Sinn Féin, Judge Weatherup rejected the application and dismissed the assertion that the IMC had no right to examine the party's activities.
Weatherup went on to say that Murphy had been entitled to draw conclusions from the report, which accused the IRA of being behind the Tohill incident.
Weatherup ruled that the IMC was within its terms of reference when it recommended financial sanctions against Sinn Féin.
Gerry Kelly said he was not surprised by the political judgement of the court and said the IMC was set up outside the terms of the Good Friday Agreement, as are the powers the British Government had taken to impose sanctions.
"Given our experience of the courts over the years, republicans will not be overly surprised at the kind of political decision made here today, and let me be clear it was a political decision."
Kelly insisted that Murphy did not have any mandate to do what he did.
"The sanctions were wrong in the first place, they do not work and the British Government should remove them."