10 February 2005 Edition
The 5th Column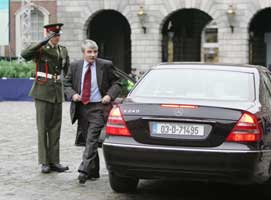 Military intelligence deficit
WILLIE O'DEA, the 26-County Defence Minister, is remaining tight-lipped under his brushy moustache about how many and which TDs or senators are being spied on by Irish Army Intelligence, known as G2.
But the Fianna Fáiler field marshal has boasted that he is the political wing of the secret military organisation that spies on political opponents and democratically-elected members of the Oireachtas. The Soldier of Destiny said that the military spooks report to him and the Irish Army's chief of staff and deputy chief in charge of operations. Willie is the political 'brains'.
"I am the only political figure in that troika. I must take responsibility for those whom military intelligence keeps under surveillance. I answer for military intelligence now and take full responsibility for what it does now."
So what does it do now?
Willie told the Dáil that only people whose activities are judged to be a threat to the security of the state are the subject of military intelligence. Willie's predecessors in Fianna Fáil and Fine Gael/Labour coalitions considered these "threats" to include the head of the Irish Anti-Apartheid Movement, Kadar Asmal (later a Minister in Nelson Mandela's first post-apartheid government), and Anthony Coughlan, the Irish sovereignty campaigner.
Are the two TDs under surveillance that security hacks allude to in the FF/PD Government's pet press pack Sinn Féin TDs? Or maybe they're not. Maybe there's more than two — and not just Sinn Féin TDs. Maybe they include rivals in Limerick. Or maybe not. Maybe they include other TDs who are thorns in the side of the O'Dea/PD Establishment, like Tony Gregory and Finian McGrath, or Pat Rabbitte and the one-time Workers' Party Stalinists now running the 26-County Labour Party. Or maybe not.
So if you answer for military intelligence, Willie, give us some answers, why don't you?
DUP dumps one bigot
THE DUP has struck a blow against anti-gay bigotry in its ranks by dumping one of its most high-profile members. No, not Ian Paisley Jnr but Newtownabbey Councillor Arthur Templeton.
A court found the DUP elected rep guilty of harassing a fellow council candidate during campaigns in 2001 and 2002. The intemperate Templeton was fined £250, ordered to pay his victim £4,000 compensation and kicked off of Newtownabbey District Policing Partnership. Now the DUP has held a reselection convention for his seat... behind his back.
Ian Paisley Jnr has not been kicked off the Policing Board or deselected by his party for his anti-gay remarks about UUP policy guru Steven King last week but, then again, he is the DUP boss's son.
DUP uncovers bigots
COUNCILLORS at Omagh District Council's monthly meeting last week were accused of being intolerant bigots — by the DUP.
Councillor Tom Buchanan had proposed that the council write to President Mary McAleese, calling for her resignation after her comments about unionist pogroms and sectarianism during the Auschwitz commemoration ceremonies.
The DUP Bucko thundered: "I propose that we send a letter registering our disgust and anger at her remarks. Her comments render her unfit for office and I propose we call for her resignation."
Refusing to debate the issue with Sinn Féin's battling Barry McElduff, Bucko's motion was seconded by his Paisleyite pal, Oliver Gibson, but lost by seven votes to four.
Oliver Gibson lamented: "It's very evident to me that bigotry and intolerance are very evident in this chamber tonight." That's the DUP for you.
Making it snappy, making it up
THE SUNDAY INDEPENDENT has now had both its front-page splash exclusive headline stories last Sunday week rubbished.
Its main story, by Jim Cusack, claimed that Taoiseach Bertie Ahern was told of IRA "plans to return to war". Utter tripe. Didn't happen, Bertie said. Didn't happen, said a daily newspaper — the Sunday Indo's sister paper, the Irish Independent (although the daily coyly omitted its errant Sunday partner's name to save all its blushes).
The Sunday Indo's second lead story was headlined "Leech thinks Provo 'spies' raided home." Jane Suiter and Maeve Sheehan said that Transport Minister Martin Cullen's controversial PR consultant "believes the IRA stole confidential personal and business information" in a burglary at her home. More tripe. Didn't believe that, didn't tell the Garda that, the publicist's lawyers told the media.
If Oscar Wilde had been writing in The Importance of Being Earnest of the British queen's favourite bean baron, Sir Anthony O'Reilly, he might have observed: "To lose one big story, Mr O'Reilly, may be regarded as a misfortune; to lose both looks like carelessness."
Life of Brian
FINE GAEL'S 'Senator Smug', Brian Hayes, wormed his way onto the panel alongside PD pin-up Liz O'Donnell TD and Sinn Féin TD Arthur Morgan (who thinks he's good looking too) for RTÉ TV's The Week in Politics on Sunday night.
Hayes told Hot Press music mag many moons ago that he joined Fine Gael because they hated republicans as much as he did (and still does). Not, you'll note, because he was smitten by the Blueshirts' policies but because he doesn't like republicans.
Hayes bleated in DUP-speak on Sunday night on the box that he wants "Sinn Féin/IRA" to go away. The rabidly anti-republican was humiliatingly dumped out of his ample seat in the last general election in Dublin Southwest by his mortal enemy, Seán Crowe of Sinn Féin. Fine Gael tried to salvage something from Hayes's crash landing by giving him the consolation prize of a seat in the Seanad until he can get his act together.
No wonder he wants Sinn Féin to go away. If only it were that easy for you, Brian.
Giving police more teeth
POLICE OFFICERS in the Philippines are to get a mouth-watering boost from the government to boost their image and self-esteem — free dentures.
About 200 officers are to get a set of £26 dentures and another 200 officers and their families will get dental care. It's part of a scheme by the husband of President Gloria Macapagal Arroyo.
Mike Arroyo's 'A New Smile for the Toothless' campaign was originally set up to help market traders but has been extended to the Philippines' poorly paid police. Omar Taribul, a senior officer with 20 years' service, said he had suffered "many years of humiliation" after losing his teeth in 1994 in a gun battle with communist rebels.
Omar said: "I can smile now because I have a new set of teeth."
The Manila Government is also looking at giving free eye treatment to its laughing policemen. While they're at it, the PSNI could do with having their peelers tested.
An Phoblacht Magazine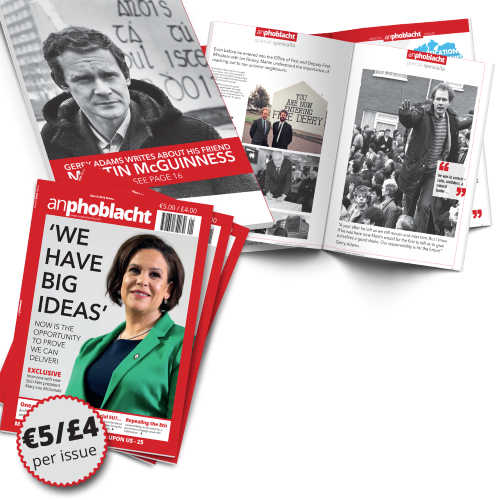 AN PHOBLACHT MAGAZINE:
The first edition of this new magazine will feature a 10 page special on the life and legacy of our leader Martin McGuinness to mark the first anniversary of his untimely passing.
It will include a personal reminiscence by Gerry Adams and contributions from the McGuinness family.
There will also be an exclusive interview with our new Uachtarán Mary Lou McDonald.
test