3 February 2005 Edition
Oireachtas Traveller Interest Group launched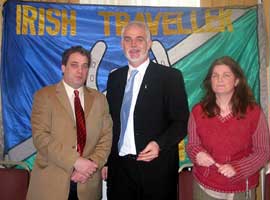 Sinn Féin Equality spokesperson Aengus Ó Snodaigh TD attended the launch in Dublin of the Oireachtas Traveller Interest Group on Monday.
Nineteen members of the Oireachtas, including Ó Snodaigh and Arthur Morgan have joined the group, which was set up to keep Oireachtas members regularly informed on issues in regard to legislation and government policy that have direct impact on the Traveller Community.
Welcoming the initiative, Ó Snodaigh said he hoped "we can make some positive contributions to debates on Travellers' rights.
"We have set ourselves some laudable targets and hopefully we can achieve them, including opening meaningful and informed debate in relation to Traveller issues and ensuring that equality legislation ensures optimum results for the Traveller community."