3 February 2005 Edition
Modern Griffiti
Book Review
The Resurrection of Hungary
By Arthur Griffith
UCD Press
€19.50/£13.95
In the pantheon of republican thought, there is usually little space given over to consideration of Arthur Griffith. Contemporary republicans often seem more preoccupied, perhaps rightly, with the who, what and when of the last 40 years, rather than events at the beginning of the 20th Century.
Then there is the little issue of the giants that Griffith's peers of the time were and history has perhaps been more mindful of Connolly, Pearse, Collins, Markievicz and others. No re-examination is going to transform Griffith into the workers' champion that Connolly was. Nor was he a militant revolutionary, nor even a poet. The fog of time passed has diminished Griffith's actual historical contribution.
For example, there is an argument that Griffith in his writing and journalism was almost as prolific as Connolly or Pearse, yet there are no collected works standing as a testament to him.
There is, though, the recently reprinted Resurrection of Hungary and maybe if you want to read a book to kick off the Sinn Féin centenary year, this is it.
Before the yawn factor sets in as you ponder working your way through the intricacies of 19th century Hungarian politics, let me say that this book is much more than a dated analysis of Hungary's struggle for self-determination.
Only 90 plus of the 170 pages in this volume are about Hungary. You also get a discussion of Anglo-Irish politics in the 19th Century, but perhaps the most important and interesting gem is in the last 30 pages.
Here you find the original articulation by Griffith of Sinn Féin economic policies, along with a well written piece on "the Economic Oppression of Ireland".
Three things stand out throughout the work and make it very readable a century after the first copies rolled into print. The first is that Griffith was a great writer and his journalism skills stand out in this work. It is concise, moving effortlessly from point to point, no needless elaboration in this analysis.
This aspect means that you can be sucked with little resistance into the intrigue of the Diet of 1825, when Stephen Szechewnyi, a Hungarian noble, took the revolutionary step of addressing the assembly in Hungarian rather than the more acceptable German.
It reminded me of a similar scenario in recent years, where Sinn Féin TD Aengus Ó Snodaigh provoked the wrath an ageing ex-Fianna Fáil Minister who declared that the bold Aengus has insulted our European brethren by addressing the Forum on Europe in the peasant Gaelic.
This brings us neatly to the second remarkable aspect of this text and an enhancement of its readability today. If you substitute the words Europe and European where appropriate in the text for Austria and Austrian, it makes for an interesting read. For form's sake, you should also translate quaint historical terms like emperor for EU Commission president and names like Ferdinand to Prodi and Francis Josef for the current 'president' Barrosa.
It is by no means a perfect match for the relationship between modern Ireland and the EU but there are some frightening parallels, particularly for those in Ireland today who see our own parliament as redundant and a millstone compared to the seductive sirens luring us towards a European superstate.
Finally, there are the sections where Griffith unwraps his economic vision. He rails against the inefficiencies and exploitation created by British rule in Ireland. Like Pearse in the Murder Machine, he attacks the British created education system. He writes, "education in Ireland encumbers the intellect, chills the fancy, debases the soul and enervates the body".
Griffith then turns his attention to the economy and history has labelled him here as merely a protectionist. There is, though, much more depth to his analysis. More interesting was that he wanted local government empowered with the resources to stimulate and promote economic activity.
Perhaps those seeking to privatise Aer Lingus and Aer Rianta should spend some time reading the section on why Griffith's Ireland needed then to have its own commercial shipping fleet. The piece on the proper role of the banking system makes interesting reading, given the dubious record of our modern banking system on so many fronts.
The collective cabinet should be forced to read the paragraphs on "A Proper Transit System". There's an idea whose time has come.
BY ROBBIE MacGABHANN
An Phoblacht Magazine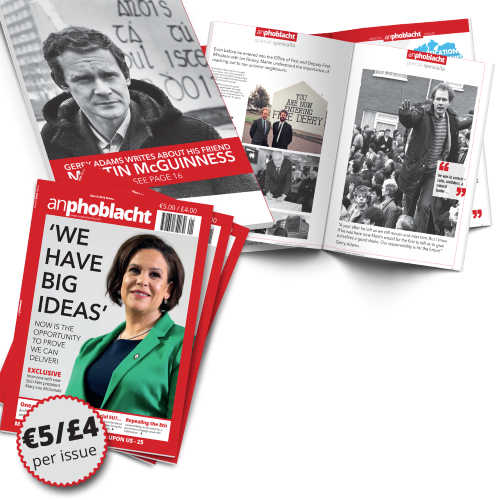 AN PHOBLACHT MAGAZINE:
The first edition of this new magazine will feature a 10 page special on the life and legacy of our leader Martin McGuinness to mark the first anniversary of his untimely passing.
It will include a personal reminiscence by Gerry Adams and contributions from the McGuinness family.
There will also be an exclusive interview with our new Uachtarán Mary Lou McDonald.
test