3 February 2005 Edition
Unfinished Revolution - From Beijing to Newry
BY JOANNE CORCORAN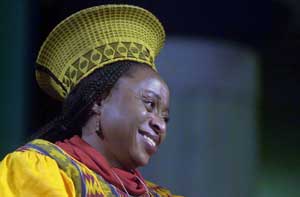 "It is not by chance that the time has come for women to receive their rightful place in all societies and for it to be recognised once and for all that they are no more guests on this planet. This planet belongs to them too."
Statement by Gertrude Mongella, Secretary General of the Fourth World Conference on Women, Beijing 1995
"I am oppressed as a woman, and I'm also oppressed as an Irish person. Everybody in this country is oppressed, and yet we can only end our oppression as women if we end the oppression of our nation as a whole."
IRA Volunteer Mairéad Farrell
In 1916, having had the sentence of death for her part in the Easter Rising, commuted to one of life because she was a woman, Countess Constance Markievicz politely told the guard who brought her the news: "I do wish your lot had the decency to shoot me."
Eighty nine years ago, women were making their mark as Irish republicans. In 2005, that's still the case.
Sinn Féin is celebrating its 100th anniversary this year, and special attention is being paid to the contributions women have made to the struggle in the last century.
Determined
Too often, our female comrades are forgotten, written out of history or simply ignored. Sinn Féin is determined to bring these women to the fore of people's minds over the next 12 months, starting with a specially convened women's conference on Saturday 12 February in Newry.
"We're going to be celebrating women's roles in the struggle and looking at the contributions they continue to make every day," Sinn Féin's Dublin MEP Mary Lou McDonald says of the conference: "It is going to be a great opportunity for women from all over Ireland to get together and discuss the different aspects of women's involvement in politics, from their pathway into government, to their participation in the disability sector and the area of human rights. We'll also talk about the hardships still faced by women in today's society, whether they are lone parents, older women, or trying to break through the glass ceiling in their various careers."
The conference, which is to be held in the Canal Court Hotel in Newry, will certainly be interesting.
Still waiting
This year also marks the tenth anniversary of the Beijing Fourth World Annual Conference in 1995, where governments throughout the world gave commitments to bring women into the fold in all areas of political life. Sadly, women are still waiting for many of their governments' promises to be fulfilled, even here in Ireland, where it is men, both North and South, who still hold the majority of public offices.
The Newry conference will be looking at what has happened in the ten years since Beijing, which promises have been fulfiled and which haven't.
As well as talks from some of the most prominent women in Sinn Féin, including McDonald herself, Céad Bliain organiser Caitríona Ruane and MP for Fermanagh/Tyrone, Michelle Gildernew, there will be a host of international speakers.
Mavivi Myakayaka-Manzini of the African National Congress will look back at Beijing, while Kurdish MEP Felenakas Uca will discuss women's pathways into politics.
Sinn Féin President Gerry Adams will open the conference, which kicks off at 11am.
"We want everyone who can to come next Saturday week," McDonald says. "This will be a unique event and is just the start of a year in which Sinn Féin plans to put women in politics back on top of the agenda."
Conference Programme, Saturday 12 February 2005, Canal Court Hotel, Newry
• Programme
• 10am - 10.45am Conference Registration
• 11am Conference Opening Address by Gerry Adams MP
• 11.10am Opening Plenary
The Beijing Platform Ten Years On
Dr Joanna McMinn (National Women's Council of Ireland)
Mavivi Myakayaka-Manzini (African National Congress)
Noirin Clancy (Women's Human Rights Project)
Caitríona Ruane MLA
• 12.30pm Lunch
• 2pm Workshops
A. Women's Pathways into Politics
Michelle Gildernew MP
Felenkas Uca MEP
Rosaleen McDonagh (Travellers' Rights Activist)
Rosanna Flynn (Residents against Racism)
Claire Hackett (Falls Community Forum)
B. Rights Based Citizenship
Bairbre de Brún MEP
Maggie Beirne (Committee on The Administration of Justice)
Mary Keogh (Forum of People with Disabilities)
Mamo McDonald (Campaigner for Older Women's Rights)
Frances Byrne (OPEN)
Paddy Kelly (Children's Law Centre)
C. Republican women working for Irish unity
Mary Nelis
Dr Margaret Ward (Author and Historian)
Geraldine Gildernew
Martina Anderson
Olive Sloan
Cllr Toiréasa Ní Fhearaíosa
• 3.30pm Closing Address
Mary Lou McDonald MEP
• Music
• 4pm Conference Close
Please Note
• Creche facilities will be available. Places must be pre-booked.
• Light lunch will be provided
• Speaker panels are drawn from NGOs, civic and political organisations in addition to Sinn Fein
• Attendance at the conference is open to the public.