20 January 2005 Edition
The cost of delaying progress
In the last 27 months, the British Government has spent £53 million on maintaining the institutions set up by the Good Friday Agreement. The institutions were suspended in October 2002, after the PSNI made serious unfounded allegations of an IRA spy-ring at Stormont. No evidence was ever provided to back up their claims.
The £53 million has been spent to keep the suspended institutions going because the British Government would rather pay that than admit they collapsed the Assembly for no reason.
In effect, the Government has spent £53 million to maintain the fiction of the Stormont spy-ring.
Now, the re-establishment of the institutions is at risk because of more unfounded accusations from the PSNI regarding the IRA. The IRA has denied involvement in December's Northern Bank robbery, but the British and Dublin Governments, the PSNI, the DUP and the SDLP are all citing their alleged involvement as a reason to exclude Sinn Féin from the peace process.
The British Government continues to deny our politicians the right to get on with the job they were elected to do. It is a disgrace that £53 million that should be used to make good decisions based on the democratic will of the people in the Six Counties, is instead being used to disguise the undemocratic and bad decisions being made by unelected direct rule ministers.
An Phoblacht Magazine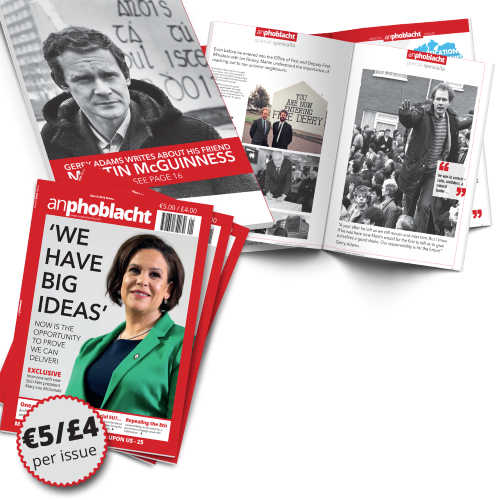 AN PHOBLACHT MAGAZINE:
The first edition of this new magazine will feature a 10 page special on the life and legacy of our leader Martin McGuinness to mark the first anniversary of his untimely passing.
It will include a personal reminiscence by Gerry Adams and contributions from the McGuinness family.
There will also be an exclusive interview with our new Uachtarán Mary Lou McDonald.
test