13 January 2005 Edition
The 5th Column
Soldier, soldier
FLEET STREET is justifiably angry that the soldier who murdered Cambridge student Sally Geeson on New Year's Day and who committed suicide last weekend was allowed to remain in the British Army despite a violent criminal past, including holding an 18-year-old woman against her will seven years ago.
Lance Corporal David Atkinson, serving with the 23 Engineer Regiment (Air Assault), at Waterbeach, near Cambridge, was said by the local newspaper to have "a history of violence". He was arrested but later cleared of kidnapping and assaulting a Polish woman while he was serving in Germany. At his trial at a British Army base in Germany in 1998 he was found guilty of the lesser charge of false imprisonment and the karate black belt was sentenced to eight months in a military prison at Colchester and fined £1,000. He returned to his unit after serving the sentence and was promoted!
Atkinson's sinister past included allegations of rape and violent assault made by his then wife in 1996 and 1997 but both were withdrawn. In 1999, he was fined £150 for stoning a swan, which had to be put down.
Atkinson set himself on fire last weekend and jumped from the seventh floor of a Glasgow hotel as the police net closed in on him.
A spokesperson for the British Army (whose boss is former Six-County minister Adam Ingram) said he was not aware the Ministry of Defence had launched any inquiry into whether Atkinson should have been allowed to remain a serving soldier. He said it was not uncommon for soldiers to be convicted of offences, serve time in military prisons and return to their careers.
Fleet Street now wants answers about how Atkinson was welcomed back even before he killed Sally Geeson - the same Fleet Street that made heroes of Paratrooper Lee Clegg (after he shot dead 18-year-old Karen Reilly and fatally wounded 17-year-old Martin Peake) and Scots Guards James Fisher and Mark Wright (who gunned down Peter McBride).
But then, unlike Sally, Karen, Martin and Peter were Irish, not British.
The G2 files
STATE PAPERS from 1974 released last week under the 30-year rule revealed that G2, the Irish Army intelligence service, was keeping files on all sorts of people that the Dublin Government considered subversive.
Included were anti-EU campaigners such as Anthony Coughlan, trade unionist Matt Merrigan, and civil rights activist Michael Farrell.
Eamonn McCann and John Hume were being monitored by Irish Army Intelligence, as well as Ian Paisley (Paisley's file even contained a couple of clippings from An Phoblacht!).
But, ironically, also on the G2 list was Conor Cruise O'Brien. When the viciously anti-republican Cruiser became the Labour Party's Communications Minister he enthusiastically enforced Section 31 TV and radio censorship. Censor O'Brien himself kept files on anyone critical of his government, even letter writers to the newspapers.
And another poacher turned gamekeeper is David Trimble advisor Eoghan Harris, another Section 31 fanatic. Back in 1974, though, Harris was one of the top dogs in the Stalinist 'Official Sinn Féin', or as his pals in the Sunday Independent would call them today, "Official Sinn Féin/Official IRA".
Ian Paisley's UDA record
IAN PAISLEY'S close associations with the UDA and the UVF, recorded in British Government files on the Ulster Workers' Council putsch in 1974 and just released, went curiously under-reported by the establishment media normally keen to focus on politicos' purported paramilitary pasts.
When the DUP leader and fellow unionist political leaders rolled up at Stormont for a meeting with Minister of State Stan Orme, they were joined by three Ulster Workers' Council chiefs and three "observers" - Andy Tyrie and Tommy Lyttle of the UDA and Ken Gibson of the UVF.
No grilling there by the BBC, UTV or RTÉ of Big Daddy or even DUP heir apparent Paisley Junior, who had more TV appearances over the New Year than Ozzy Osbourne.
Paul McCartney's rebel record
DUBLIN state records revealed that the Irish Embassy in London was dropped in a free copy of Paul McCartney's song, Give Ireland Back to the Irish, by its promoter, who hailed from Rebel Cork City.
Give Ireland Back to the Irish was recorded by McCartney's new group, Wings, with his wife, Linda, playing the organ.
Just in case you young pop-pickers are puzzled about this seldom-heard hit of Sir Paul, it called for British troops to get out of Ireland. Consequently, it was banned by the media wing of the British Government, the BBC, the Independent Television Authority and even the supposedly radical Radio Luxembourg.
A handwritten note on the Wings record by an embassy official said: "We, of course, will not be able to send it out. They may wish to have this record at FA [Foreign Affairs]."
Is there still a copy of McCartney's rebel yell deep in the vaults of Iveagh House? Or has some minister pilfered it to go alongside their Wolfe Tones albums?
Undercover policeman
RACIST North Wales policeman Rob Pulling, who was forced to resign after being exposed by a BBC undercover film as one of several recruits at a training centre making threats and wearing a home-made Ku Klux Klan hood, has moved to Scotland to work under an assumed name.
He's got a job as a trainee manager with Marks & Spencer.
Let's hope they don't put him near the household department and all those white bed-sheets.
Puddled
SKY NEWS was almost as shocked as one of the weekend's flash-flood victims in Carlisle, in the north of England, who was asked for an update on the rescue operation by the emergency services, including the Royal Air Force.
"I'm waiting for a helicopter from the IRA," the distressed survivor proclaimed to a spluttering newsroom. The IRA?!! The next thing to hit his house will probably be a deluge from the Special Branch and MI5.
An Phoblacht Magazine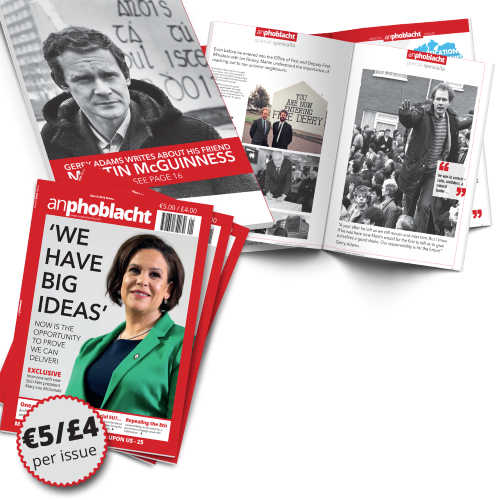 AN PHOBLACHT MAGAZINE:
The first edition of this new magazine will feature a 10 page special on the life and legacy of our leader Martin McGuinness to mark the first anniversary of his untimely passing.
It will include a personal reminiscence by Gerry Adams and contributions from the McGuinness family.
There will also be an exclusive interview with our new Uachtarán Mary Lou McDonald.
test