13 January 2005 Edition
Hundreds honour John Francis Green on 30th anniversary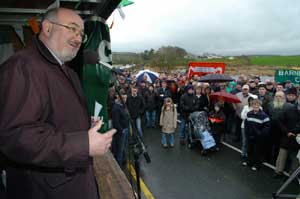 More than 800 people participated in the march and memorial unveiling in Castleblayney, County Monaghan, on Sunday last 9 January, to commemorate the 30th anniversary of IRA Volunteer John Francis Green, who was shot by a British death squad at Mullyash in 1975.
Sunday's parade went through the town of Castleblayney to the site of the new memorial at Keady Cross, the Keady/Oram roads junction. The march was led by a colour party of 20 women, accompanied by a lone piper, the Lurgan Martyrs Republican Flute Band, and the Burns/Moley Band from Crossmaglen. Sinn Féin cumainn banners from throughout Counties Monaghan and Armagh were carried.
Impressive turnout
The ceremony at the memorial was chaired by Fintan Smyth, Cathaoirleach of the John Francis Green Cumann, Castleblayney. Welcoming in particular the members of the Green family present, Fintan Smyth said:
"The impressive turnout here today and the goodwill shown to all the committee members when fundraising for this commemoration and memorial, demonstrates the high esteem in which John has been held by not just the people here but by people the length and breadth of this country."
The memorial was unveiled by John's brother, Tom, and it was blessed by Fr Joe McVeigh. The County Monaghan Roll of Honour was read by newly elected Castleblayney Councillor Maria Kelly. Wreaths were laid including one by Ann Green, wife of John, and by other members of the Green family.
The platform party included Bernadette O'Hagan, lifelong republican from Lurgan, County Armagh, who spent many years in County Monaghan with her late husband JB O'Hagan. Fintan Smyth thanked Oliver Bradley and the committee who worked to ensure the memorial was in place for the 30th anniversary.
Jackie Crowe's memories
Monaghan County Councillor Jackie Crowe was a close personal friend of John Francis Green and he recalled a few of his memories. Crowe recalled travelling with his wife Bernie and John Green to the Easter commemoration in Monaghan in 1974 in John's Volkswagen.
"We were near Annyalla when I spotted a car wheel passing us. I said to John 'Where did that come from?' and he replied he didn't know. We soon knew that it was ours when sparks started flying. We got out and searched for the nuts of the wheel. We could only find three and were soon back on our journey."
Recalling that John Green escaped from Long Kesh dressed as a priest, Crowe said that afterwards John stayed with him and Bernie in their flat. If he needed the flat for a meeting he would ask Bernie: "I am hearing confessions tonight. Is that OK?"
Main oration
The main oration was delivered by Sinn Féin Dáil leader and Cavan/Monaghan TD Caoimhghín Ó Caoláin. He said John Francis Green "served the cause of Ireland" and was "a soldier of freedom in the cause of the Irish Republic".
Ó Caolain extended a special welcome and continuing sympathy and solidarity to the members of the Green family, especially to John's wife Ann and their children Ursula, Gerard and Frances and to all the extended family. Turning to the tragedy of John Green's death, he said:
"John was only 28 years of age when he was cut down by a British death squad at Mullyash, 30 years ago tomorrow, 10 January 1975. Even at that young age he had had an eventful life. He and his wife Ann had three children, a young family that saw their husband and father taken from them, first through imprisonment and then through his tragic death.
"John and his family paid the price for decisions made in Dublin and London in 1920 and 1921, when a British government imposed the Partition of Ireland, dividing these neighbouring counties - John's native County Armagh and County Monaghan, where he often found refuge during his life on the run.
"John, with his comrades in the North Armagh Brigade of Óglaigh na hÉireann, was determined to resist, to challenge British rule in our country, to end Partition and to bring about lasting peace with justice.
"And here in Western Europe, in the latter part of the 20th century, he experienced conditions which people thought belonged in the pages of history or in the regimes of distant dictators. In 1972 he was interned without trial with hundreds of other nationalists and republicans. He was sent to a prison hulk moored in Belfast Lough — the Maidstone prison ship. He was sent to the Nissen huts and barbed wire enclosures of Long Kesh concentration camp.
"But the spirit of freedom was strong within John and his comrades and he made his escape from Long Kesh in September 1973. Ten years later that spirit of freedom was seen again when 38 republicans escaped from the H-Blocks. Three years before that, John's brother, our friend and comrade Leo, endured with others a hunger strike in those same H-Blocks, the precursor of the 1981 Hunger Strikes, when ten men died in the same cause that John fought and died for.
"Throughout all of John's life, and the lives of his parents, the nationalist people of Armagh and of the entire Six Counties had experienced nothing but discrimination, second-class citizenship and repression. When they demanded civil rights they were met with violence from the Orange state and when that failed the British Army was sent by London to prop up their puppet regime.
"We should not forget, in this the centenary year of Sinn Féin, that up until a few months before John's death, Sinn Féin was banned in the Six Counties. Is it any wonder then that young people like John turned to the IRA because they saw that the response to the demand for civil rights was State violence and further repression and that the political avenue to change was closed to them?"
Blind eye to collusion
"Successive Governments in this State turned a blind eye to collusion — the use by British state forces of loyalist paramilitaries to terrorise the nationalist population. The Cosgrave coalition had allowed the investigation into the Dublin and Monaghan bombings to be wound up prematurely a few months before John Green's death. We know from the Cabinet papers that they were informed of the deployment of the SAS in the North. The British knew that they could act with virtual impunity along the border and into this State.
"And so, agents of the British state came into County Monaghan and shot dead the young republican we are commemorating today. He was one of at least 47 people who were killed in the 26 Counties since 1972, either directly by British forces or by their unionist paramilitary agents. All of their families deserve to know the truth. Many hundreds of republicans have served thousands of years of imprisonment. Yet British soldiers and RUC members have never been held accountable and their senior officers and the politicians who directed them have never had to account for their stewardship of Britain's dirty war in Ireland.
"The family of John and of all the victims deserve the truth. The British Government refused to cooperate in any meaningful way with the inquiries of Judge Henry Barron, which included an examination of the circumstances surrounding the death of John Francis Green. That is not acceptable and the Irish Government must take the British to task and make them answerable to international opinion so that their true role in collusion can be made known at last."
Orde allegations refuted
Turning to the current peace process, Ó Caolain said:
"It is clear now that the DUP were unwilling to share power with republicans at this time. I urge republicans to examine the detail of what our negotiators achieved which was substantial. The deal as negotiated would have implemented and reinforced the Good Friday Agreement. I believe that is why British securocrats have been continuously active in undermining that Agreement. They care little for real peace and see only the need to prevent Sinn Féin from entering an Executive in the Six Counties and the inevitable dismantling of the British war machine in Ireland.
"That is why Hugh Orde has accused the IRA of carrying out the Belfast bank robbery. I believe there is a securocrat agenda at work. It is a disgrace that the Irish Government and most of the media have accepted without question the opinion of Hugh Orde, who has produced not a scintilla of evidence to back his allegations.
"Sinn Féin negotiator Martin McGuinness has stated that he was told by the IRA that it was not involved. I accept that assurance from a republican whose record in advancing the Peace Process is second to none. And I ask the Irish Government and those sections of the media 'Why do you take without question the word of an appointee of the British Government who represents no one in this country while dismissing summarily that of an elected representative of the Irish people?' I think the Irish people will judge them by their answer."
The parade reformed and marched to Market Square, where proceedings were concluded with Amhrán na bhFiann.